Hindustan Motors launches Mitsubishi dealership in Hisar
Hindustan Motors Ltd. (HM) has launched a Mitsubishi dealership in Hisar, Haryana. The authorised dealership - M/s Confident Automobile - will look after sales, service and spares for the Mistubishi range.
The showroom-cum-service centre was inaugurated by Mr Ashish Kaul, head of sales and channel expansion of HM's Mitsubishi range of vehicles. The showroom will also showcase Mistubishi's latest vehicle - the Pajero Sport.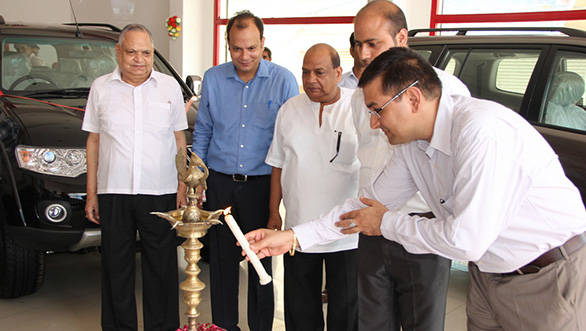 HM officials at the inauguration of the new showroom
"Hisar is fast developing as a counter magnet city to the National Capital Region (NCR). Thanks to a large number of steel units here, Hisar is already known as the steel city in these parts. The city is developing rapidly as a business hub and is attracting more and more professionals and businessmen. It is indeed a pleasure introducing world-class Mitsubishi vehicles in this city. Our latest vehicle, Pajero Sport, will certainly attract the movers and shakers of Hisar," said a Hindustan Motors spokesperson.
Besides the 4,500-sq ft showroom, there is an additional 6,750sqft service workshop and 1,000sqft for spare parts in the premise.