Hero part-owned Erik Buell Racing 1190RSs to compete in the 2014 Isle of Man
The 2014 edition of the Isle of Man races will see a small but significant step for Indian motorcycle manufacturers. Hero part-owned EBR motorcycles will take to the legendary Snaefell Mountain course with British road racing team, Splitlath Motorsports, fielding two 1190RS motorcycles in the race. This is the first for an Indian manufacturer at the IOMTT and is also the first time that Erik Buell Racing motorcycles will take to the TT Mountain Course.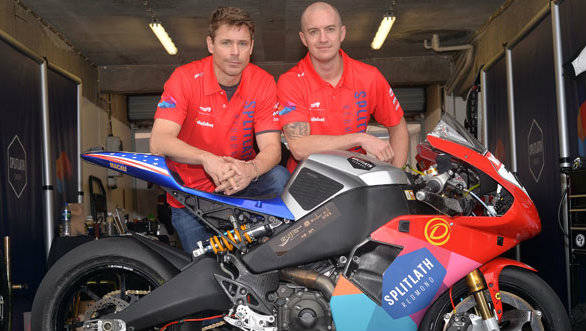 Mark Miller and Brandon Cretu with the 1190RS that they will compete with at the 2014 IOMTT
Splitlath Motorsports, is a British team, with an all-American lineup for the IOMTT. And of course, this has more to do with just the motorcycles they will be fielding. American riders Mark Miller and Brandon Cretu, both of whom are experienced TT riders, will pilot the 1190RSs in the event. The one advantage that Spitlath has in the upcoming races, is that both their riders have fielded EBR 1190RSs in the 2013 Macau GP, finishing 11th and 20th respectively. And while that might not seem like the best result possible, the fact remains that they are comfortable with the bikes and confident of doing well at the TT races this year.
The EBR 1190RSs are Rotax-powered V-twins that will compete in the Dainese Superbike, RL 360 Superstock and PokerStars Senior TT races. Both riders are hoping to do well in the races and are also hoping for personal-best performances at the event. Miller, especially, will have a lot of hopes riding on his shoulders given that he has the distinction of being the fastest American in the history of the IOMTT with a lap record of 125.507mph. Cretu, on the other hand, has a fastest lap of 117.8mph around the TT, something he is determined to improve upon.
Team owner John Dimbylow was optimistic about how they would fare at the event, stating "We are all tremendously excited and proud to be running Erik's bikes at the TT this year. Running any motorbike at the TT is hard, it shows up all sorts of things on the bikes that you just don't expect as no other race poses similar challenges, so running a completely new bike when no one else has is incredibly difficult, but people love Erik's bikes, his engineering brilliance, and his ability to "dare to be different". We are looking forward to solid performances from our US Riders and a foundation with which to build upon in subsequent campaigns."