Hero opens 750,000 unit factory for premium motorcycles in Neemrana
Hero MotoCorp senior officials, including Pawan Munjal, the MD and CEO took the media for a tour of their newest factory in Neemrana, Rajasthan a day before the official inauguration of the factory. Hero is already working on more plants in Gujarat and Andhra Pradesh.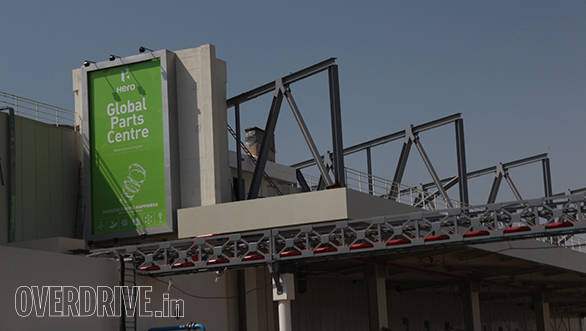 The Neemrana facility is in two parts. The smaller investment is roughly Rs 300 crore in the Global Parts Centre. The GPC, as HMC officials refer to it, is to be the hub from where Hero MotoCorp supplies its dealers and service stations, the world over, with original spares. Hero says it expects the GPC to enable Hero to double its parts business to Rs 3,000 crore annually in the next two to three years.
Our tour of the GPC shows that Hero has thought long and hard about the nature and role of the facility. What it is, in effect, is a building where Hero procures and then stores parts sent to it by all of its component suppliers. Then these goods are packaged, routed and then shipped to the places from where there is demand for some or many parts to be delivered for sale to the actual Hero motorcycle and scooter users. What Hero has done is created a highly automated setup where bar-codes, bar-code readers, robots and very few humans accomplish a complicated logistics task with great speed and precision.
Hero is now set to now start work on its plant at Halol in Gujarat and its sixth Indian factory, in Andhra Pradesh will go into construction next year. Hero intends to have 12 million units in installed capacity by 2020. Hero will also invest in Argentina and Brazil soon.