Hero MotoSports' Joaquim Rodrigues wins 2019 Pan Africa Rally
Hero MotoSports Team Rally's Joaquim 'JRod' Rodrigues claimed overall victory at the 2019 Pan Africa Rally. The win is the Hero MotoSports outfit's first victory of the season. It was also JRod's first win since his crash at the 2018 Dakar Rally that left him with injuries. Earlier, JRod had taken the team to vicotry at the 2017 Baja India.
"I am really happy with this win. The past couple of years have been difficult for me after my crash at the Dakar in 2018. My road to recovery has been long and painful and I am happy to be finally getting back to my 100%. My confidence is back and my back is really good now," Rodrigues said. "Congratulations to Santosh also for doing a great job and posting his personal best. My thanks to the entire team for supporting me and giving the best possible support. This win is for Hero MotoSports Team Rally," he continued.
CS Santosh, the only other rider from Hero MotoSports who competed in this rally, finished a solid fifth. Santosh achieved his personal best result, also the best result for an Indian rider at a rally outside India. Santosh put in some good performances over the course of the five stages of the event. The result is likely to be something of a mental boost for him ahead of the Rallye du Maroc, which he will take part in between October 3 and 9, which will also be his final competitive outing before the Dakar 2020.
"It's been a really good race for me. I was consistent and getting better with every stage. You always push yourself to do better than before, race your own limits. Finishing fifth here today is very satisfying. I am quite happy with the way this season has progressed and with my training, so all we have to do now is to build on it to the Dakar," Santosh said .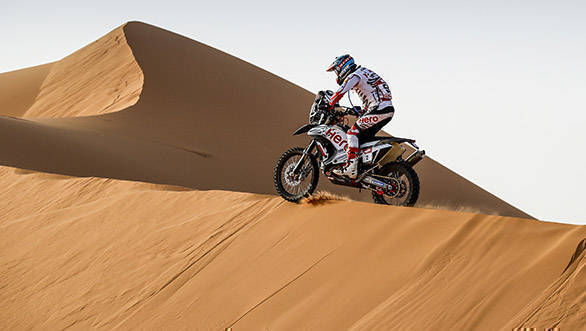 Wolfgang Fischer, team manager and head, Hero MotoSports Team Rally said, "A fantastic week of racing came to a highly deserved culmination today for JRod and Santosh. JRod's journey has been an inspiring one! From his dream debut at the Dakar and winning the first ever rally for Hero MotoSports in 2017, to his severe injury in Dakar 2018, and then to make an impressive come back today, is something special. Santosh has been a Global Ambassador for the Indian motorsports fraternity and posting his best ever result today, will bring a lot of positivity for him and the sport in India. Looking forward to our next race in eight days, where for the first time, we will start with the full strength four rider configuration. "
Final overall classification - 2019 Pan Africa Rally
1. Joaquim Rodrigues Hero MotoSports 16h 21m 43s
2. Jacopo Cerutti Solarys Racing Team +11m 34s
3. Sebastian Buhler Team Buhler +31m 29s
4. Maurizio Gerini Solarys Racing +01h 13m 08s
5. C S Santosh Hero MotoSports +01h 22m 43s