Hero MotoCorp partners with Magneti Marelli for fuel injection systems
World's leading two-wheeler manufacturer Hero MotoCorp has formed a joint venture with famed Italian component manufacturer Magneti Marelli (MM). The JV will have MM helping Hero to develop and subsequently manufacture the latest fuel injection systems for the latter's new motorcycles. Following this partnership, Hero in due course will be the only Indian motorcycle manufacturer to have a fuel injected product line of its own.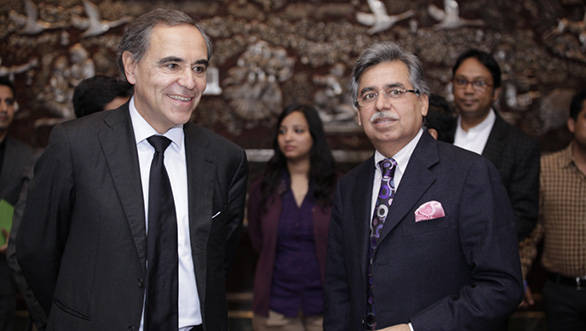 Eugenio Razelli, CEO, Magneti Marelli and Pawan Munjal, Hero's MD and CEO at the JV announcement
The joint venture will be called HMC-MM Auto Ltd and is Hero's first JV since its split with Honda in late 2011. In HMC-MM Auto Ltd, Hero will hold 60 per cent ownership while MM will have 40. There will be a total investment of $27 million over a period of 10 years. The JV will also have its own development centre. Along with fuel injection systems, MM will also offer slip and traction control, immobilizers, flexi and multi fuel management systems. This joint venture is expected to bring in key engine-related technology thereby reducing the dependence on external vendors.
Other Hero alliances include the ones with Erik Buell Racing and AVL. Hero has also roped in Engines Engineering for its upcoming motorcycles.
Pawan Munjal, Hero's MD and CEO said, "It has always been my firm belief that the path to technological excellence is through self-sufficiency and independence. Therefore, over the past year, we have been forging multiple alliances with globally-renowned design and technology firms, and the newly-formed partnership with Magneti Marelli is yet another strategic move in that direction. This is our first Joint Venture since charting our solo journey and as an immediate opportunity and focus area, the new firm shall be taking up development and manufacturing of next-generation Fueling Systems. This is one of the most important areas in various technologies involved in making of better fuel-efficient, environment friendly modern engines. Fuel technology has undergone a major shift over the past two decades. The advances in electronics and control technology, which have become smarter and real time, have given a very useful tool in the hands of engine designers to precisely optimize fuel supply for control of output performance, emissions, fuel consumption and usage of certain fuel blends."