Hero MotoCorp enters Bangladesh
Hero MotoCorp has entered in to its first overseas joint venture with Nitol Niloy Group in Bangladesh. The world's largest two-wheeler company will hold a majority 55 per cent stake with the remaining 45 per cent being held by the Bangladeshi firm.
2014 Hero Extreme
Another big announcement is the setting up of Hero's manufacturing plant in Bangladesh which is also the company's first outside India. The plant is expected to be up and running by the first quarter of the 2015-16 financial year and once completed will have an annual production capacity of 1,50,000 units. Hero MotoCorp will be investing 40 million US dollars over the period of next five years to introduce new technology in Bangladesh.
Hero Splendor iSmart
Hero has also started the sale of its range of bikes through 50 outlets spread across the country. A total of eleven models will be on offer, these will be Super Splendor, Splendor Pro, Splendor+, Splendor iSmart, HF Dawn & Deluxe, Passion Pro, Glamour, Hunk, Xtreme and also the Pleasure scooter. All these models will be backed by a 5-year warranty, a first in Bangladesh.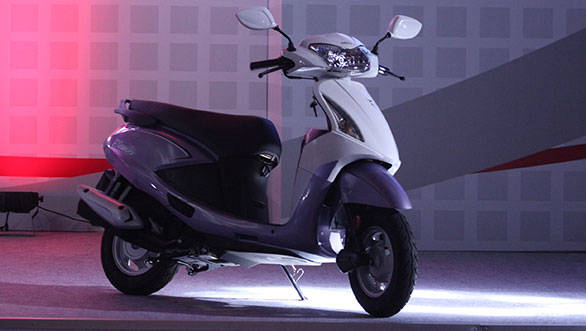 2013 Hero with IBS
Pawan Munjal, MD & CEO, Hero MotoCorp Ltd, said this on the occasion, "The commencement of our operations in Bangladesh is a significant milestone in our strategic global expansion plans. In addition to being our first overseas joint venture, this is also where our first manufacturing plant outside of India will come up. Once operational by the second quarter of financial year 2015-16, the plant will have an annual capacity of 150,000 units. We are aiming to have around 20 per cent of market share here in the first year of our operation."
ICONIC TWO-WHEELER BRAND 'HERO' DEBUTS IN BANGLADESH
In keeping with its vision of expanding its global footprint to as many as 50 countries by 2020, Hero MotoCorp Ltd (HMCL) - the world's largest two-wheeler manufacturer – today launched its operations in Bangladesh through a Joint Venture (JV) with the reputed Nitol Niloy Group. The historic Joint Venture was announced here today by Mr. Pawan Munjal, Managing Director & Chief Executive Officer, Hero MotoCorp Ltd, and Mr. Abdul Matlub Ahmad, Chairman, Nitol Niloy Group of Companies, in the presence of the Industry Minister of Bangladesh H.E. Mr. Amir Hossain Amu and the Acting High Commissioner of India in Dhaka, Mr. Sandeep Chakravorty, and Group Managing Director of Nitol Niloy Group, Mr. Abdul Musabbir Ahmad. While Hero MotoCorp has rapidly expanded its global footprint, this is the company's first overseas joint venture to set up a two-wheeler manufacturing plant outside of India, since it commenced its solo journey almost three years ago. Hero will hold majority stake of 55 per cent in the new JV while the Nitol Niloy Group will hold the rest 45 per cent stake. There will be a total equity injection of US$ 12.6 million in a ratio of 55:45 over a period of two years. The new venture will have a CAPEX of US$ 23.2 million in the first year of its operation (Financial Year 2014-15) and a total investment of US million over the next five years. While the manufacturing plant will be operational by the second quarter of FY 2015-16, the Hero range of two-wheelers are already being made available in Bangladesh through the initial 50 retail outlets. Mr. Munjal today inaugurated the first of the flagship Hero showrooms in Dhaka. More outlets are also being rapidly added in markets across the country. The range of Hero two-wheelers being made available in the country include successful models like the entry-level segment 100cc bikes- HF Dawn & HF Deluxe, Splendor+, Splendor Pro, Splendor iSmart, Passion Pro, the deluxe segment125cc Super Splendor and Glamour and the premium segment 150cc Xtreme and Hunk, and the 100-cc scooter Pleasure. Hero has launched an unprecedented 5-year warranty on all these models in Bangladesh – a statement of confidence in the technological superiority of its products. The Splendor iSmart is the most recently launched offering of Hero MotoCorp that comes with the revolutionary i3S (Idle Stop and Start System) technology. i3S technology automatically shuts the engine when idling, and turns it on when needed, with a simple press of the clutch, giving more mileage in congested cities. Hero MotoCorp (formerly Hero Honda Motors Ltd) will soon launch brand-building initiatives in this market with the Bengali version of the iconic Hero anthem "Hum Main Hai Hero" (There's a Hero in Each of Us) which will be aired across television platforms in Bangladesh. There will also be brand-specific communications to establish Hero products in the country. Hero MotoCorp – since charting its solo journey after separating from erstwhile partner Honda in 2011 - has fast augmented its global presence. As of today, Hero two-wheelers already sell in as many as 18 countries including Peru and Ecuador in South America; Guatemala, Honduras, El Salvador in Central America; Kenya, Mozambique, Tanzania and Uganda in East Africa; Burkina Faso, Ivory Coast, Congo and Angola in West Africa and most recently Turkey and Egypt. The company has also established its international assembly units in Kenya, Tanzania and Uganda in East Africa through its distributors. Hero MotoCorp is the world's largest two-wheeler manufacturer in terms of unit volumes sold by a single company in a calendar year. The company has three state-of-the-art manufacturing plants in India - two in the northern Indian state of Haryana and one in the northern hill state of Uttarakhand. The company is also set to commission its fourth manufacturing plant at Neemrana in the northern Indian state of Rajasthan soon, thereby taking its total annual installed capacity to over 7.5 million units. Hero MotoCorp is also in the process of building a fifth manufacturing unit in the western state of Gujarat. The company sold a record 6.25 million two-wheelers in the Financial Year 2013-14 – the highest-ever by any single two-wheeler manufacturer in a financial year. HMCL has multiple global technology alliances with internationally-renowned design and technology firms from the US, Italy and Austria. Hero MotoCorp is also in the process of building an integrated state-of-the-art Centre of Global Innovation and Research & Design.
Price (Ex-Delhi)
Starts Rs 44,900