Heritage Transport Museum to celebrate its 4th anniversary on December 9, 2017
Automobile enthusiasts across the country are already aware of the unique Heritage Transport Museum located at in Taoru, Haryana, just two hours from New Delhi. Founded by Tarun Thakral, the Heritage Transportation Trust, show a unique collection of automobiles that have been collected over the years. And all of them have a special story behind them. This weekend will be truly special as the Heritage Transport Museum will be celebrating ts fourth anniversary.
In 2016 alone, the museum has won two awards ? the National Tourism Award for being the most innovative and unique tourism project in the country and the 2016 Travellers' Choice Award by TripAdvisor. The visitors to this museum include school children, university students, domestic and foreign tourist groups, members of automobile clubs, architects, researchers and designers. Last year, the Heritage Transport Museum inaugurated a 20ft tall sculptural installation called the Traffic Tree with 87 traffic lights depicting various signals, and has been designed and curated by the museum's in-house team.
Since the official opening of the Museum on 7th December 2013, the Museum has inspired over 300,000 visitors till date. As a part of the 4 th Anniversary Celebrations the Museum will unveil its recently restored 1940's wood-bodied Tram. This Tram Car No. 204, acquired from Calcutta Tramways in September 2017 is one of the last few surviving wood bodied trams. It had served the residents of Kolkata for the last 7 decades. With a total length of 57 feet and width of 7 feet it weighs 18 tons. It has a seating capacity for 61 passengers and is a 2 car articulated carriage.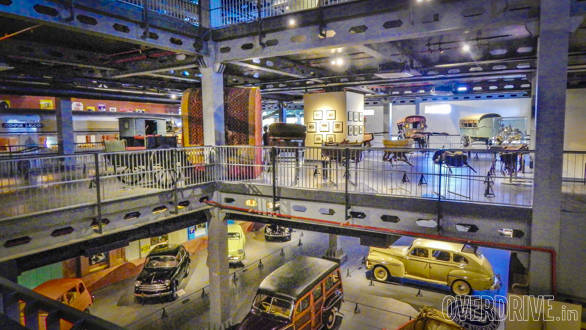 The visitors will also get to experience 1950's Steam Engine of the bygone era of Steam Railways. Built in 1953 by the Arnold Jung Lokomotivfabrik (Arnold Jung Locomotive Works) a locomotive manufacturer established in 1885, in Kirchen, Rheinland-Pfalz, Germany, it bears the registration number 11736. It stands 12.5 feet tall & 31 feet long, and weighs over 47 tons in service. The locomotive can carry 1,320 gallons of water and over 4 tons of coal to feed its voracious appetite. It operates on a 5 feet 6 inches track gauge (broad gauge) and its wheel configuration is 0 - 6 - 0. The Museum had completed its restoration in a record time of 3 months earlier in the year.
Over 2,000 visitors are expected to visit the Museum during its 4th Anniversary Celebrations spread over two days. Vistors can be a part of this celebration from December 9-10, 2017. The entry tickets for adults is Rs 400 and for children is Rs 200.