Here's the 2019 Ferrari SF90 Stradale hybrid hypercar
The 2019 Ferrari SF90 Stradale sits above the F8 Tributo in the Italian sportscar maker's line-up. But more importantly, its the fastest car the company has ever made, and it is a hybrid. For the first time ever for a Ferrari. The SF90 moniker is a homage to the 90th anniversary of Scuderia Ferrari, the firm's racing outfit.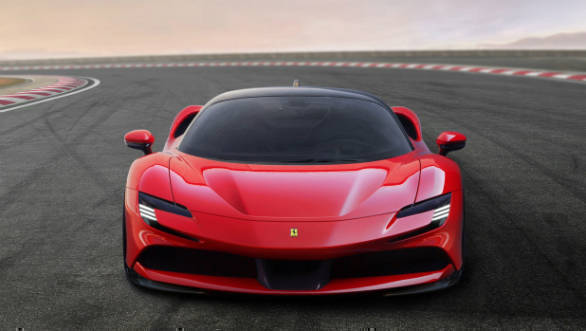 The SF90's motor is a development of the one found in the 488 GTB. Significant modifications mean that it now makes 780PS, as compared to 710PS in the Pista. This is paired with three electric motors. The biggest one makes sits in the middle of the car, paired with a new eight-speed DCT that shifts 30 percent quicker. The other two motors are placed on the front axle. Combined they make 220PS, powered by a 7.9 kWh lithium-ion battery. The overall output is 1000PS, more than the LaFerrari. The SF90 can get from 0 to 100 kmph in 2.5s and to 200 kmph in 6.7s. The hypercar can 25 km is electric power only, and reach 135 kmph in this mode.
Now for the styling. The SF90 Stradale is a departure from recent Ferrari's by way of its sharper themes, especially clear with its front and rear fascia's. The C-shaped headlamps and squarish taillamps are a new design motif. The windscreen is now more heaily raked and the hypercar now has a cab-forward look thanks to the more compact powertrains. Otherwise, the heavily aero-inspired deisgn of Ferrais remains. So you get the flowing line, the big rear buttresses and the new shut-off gurney rear section, just behind the mid-mounted engine. All the flowing shapes and ducts in the body are functional and meat to channel air through the car efficiently.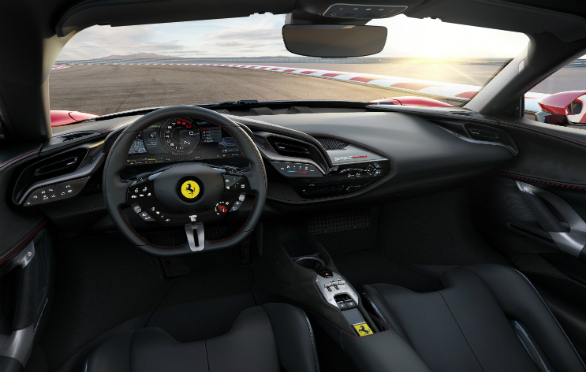 There are sweeping changes to the inside as well. While the layered, driver-focused arrangement is now a common theme with the brand, the instrument cluster has been re-thought quite a bit. It's now a fully digital 16-inch unit, curved towards the driver. There are even more functions on the steering wheel, but the layout is optimised and most are of the capacitive touch kind.
The SF90 Stradale will also be available in a more committed Assetto Fiorano version. This trim gets upgraded shock absorbers, lightweight titanium springs and exhaust, carbon-fibre wheels and other weight-saving measures. Also included are Michelin Pilot Sport Cup2 tires.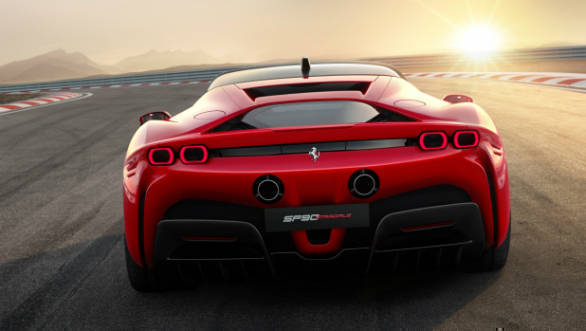 The Ferrari SF90 Stradale is not a replacement for the LaFerrari. It is now the top mid-engined Ferrari you can buy before a halo model, replacing the LaFerrari comes along. Competitors will include the Mclaren Speedtail, the Mercedes-AMG One and the Aston Martin Valkyrie. Prices haven't been announced yet but we expect the SF90 to be on sale in India soon after its India launch, with pricing overshadowing the 812 Superfast.