Hennessey Venom GT Spyder at 427kmph is the world's fastest convertible
The Hennessey Venom GT Spyder has set a new record as the fastest convertible on the planet. It set a top speed (Vbox-verified) of 265.6mph or 427kmph. Talk about the ultimate wind in your hair experience! The record was previously held by the Bugatti Veyron Grand Sport Vitesse, that set a record of 254.04mph or 408kmph.
Hennessey did a single run down the 2.9 mile (4.6km) Naval Air Station runway, in Lemoore, USA. Racelogic's engineers were present to certify the record. For a Guinness world record, the car should have completed two runs, but Hennessey says it doesn't care. The Bugatti too did a single run at Volkswagen's Ehra-Lessian proving grounds in Germany and hence finds no mention in the Guinness book of records.
The timing of the run couldn't have been any better as Hennessey also celebrates its 25th anniversary, in 2016. John Hennessey, founder of Hennessey Performance said, " "I thought that this would be a special way to celebrate 25 years of making fast cars faster. I've wanted to test the top speed of our Venom GT Spyder, without the roof, ever since our coupe ran 270.4 mph (434kmph) on the Space Shuttle landing runway at NASA's Kennedy Space Center in 2014. This was a great way to validate the technical excellence of our car which includes high-speed stability with an open roof."
He also added, "We are grateful to have the help of so many friends, family, employees, customers and partners over the past 25 years. We look forward to the next chapter of the Venom with the F5 as we keep making fast cars faster for the next 25 years." The company will build three special edition Venom GT Spyders to commemorate the record as well its 25th anniversary.
The Venom GT Convertible is powered by a 7-litre, twin-turbo, V8 that produces 1,451PS at 7,200rpm and a gut wrenching 1,745Nm at 4,200rpm. The engine is mated to a six-speed manual. The car accelerates from 0-100kmph in under 2.4 seconds and 0-200kmph in a mere 13 seconds.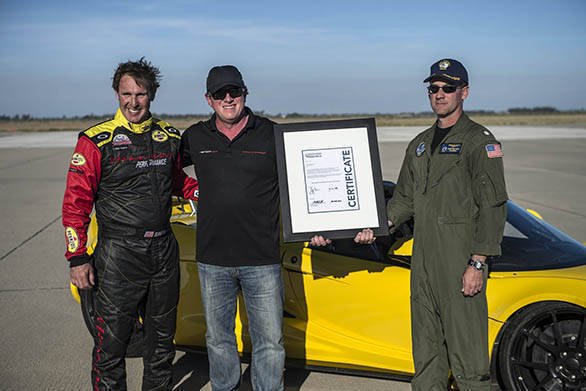 Essentially, the Venom GT Spyder is a souped up Lotus Elise/Exige. Hennessey has used the base car's doors, windscreen, side glass, cockpit, floorplan, air-conditioning system, wiper and headlights.
Hennessey specialises in tuning fast cars to go faster. The factory is located in Sealy, Texas and also has a quarter mile drag strip alongside.
Price (Ex-Delhi)
Starts Rs 12 Crore