Hennessey Venom F5 teaser released, aims to be the fastest production car ever
While most automobile manufacturers are busy making autonomous cars, there are others who want to keep pushing the envelope of performance and speed. The Bugatti Chiron is an obvious contender in this list as we recently saw Juan Pablo Montoya, Formula 1 Monaco Grand Prix winner, push the hypercar to its limits making it the fastest production car to reach a maximum speed of 400kmph in 32.6 seconds. However, that title might be short lived as Hennessey has dropped a teaser of the Venom F5, that will battle it out with the Koenigsegg Regera and the Bugatti Chiron.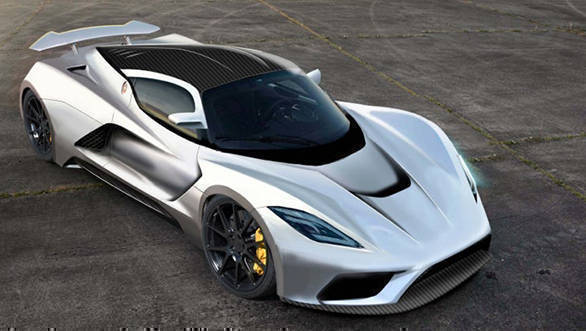 The upcoming Hennessey Venom F5 is being built as a successor of the Venom GT. The latter gained popularity for it was faster than the Bugatti Veyron by beating its record in 2014. Coming to the Hennessey Venom F5, in order to make it light, the hypercar makes use of carbon fiber and weighs a mere 1,300kg. The company states that the Venom F5 makes 1,400PS with the help of the bigger turbocharger and intercooler updates compared to the GT.
Hennessey recently shared a post on instagram with the Venom F5 parked beside a road sign that mentions "Speed Limit 300" where 300 denotes the max speed of 300mph (482 km/h). The Hennessey Venom GT had a speed record of 265.6mph or 427kmph whereas for the Venom F5, the company claims a maximum speed of 270.49 mph (435.31 km/h) tested at the Kennedy Space Center in Cape Canaveral, Florida.
Hennessey has not let out any additional information on the Venom F5 yet. The Texan tuning company will be showcasing its version of the fastest production car in the world on November 1 at the SEMA show in Las Vegas.
Price (Ex-Delhi)
Starts Rs 12 Crore