Harley-Davidson unveils Project Livewire electric motorcycle
As expected  Harley have unveiled an electric motorcycle called the LiveWire but contrary to speculation, it is a prototype that the company intends to display (currently) at three American cities to gain feedback and customer insight that will contribute to a future motorcycle product and its development. Matt Levatich, president and CEO, Harley-Davidson Motor Company, said "Harley-Davidson has reinvented itself many times in our history, with customers leading us every step of the way. Project LiveWire is another exciting, customer-led moment in our history."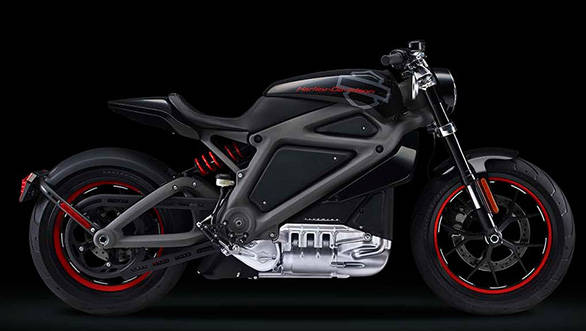 The motorcycle will be displayed and available for test rides on the "Experience Tour" on June 24 in New York. Harley says the feedback will help refine the idea of a future electric Harley-Davidson motorcycle. Harley intends to also have a simulator called JumpStart for those who do not ride yet.
Harley-Davidson will then kick-off a 2014 US tour that will journey down Route 66 travelling through 30 Harley dealers before the end of the year. Harley also intends to take this road show-cum-customer survery to Europe and Canada.
The Harley press release does not reveal any further information about the motorcycle itself but here is what is clearly visible on the photographs. The motorcycle has LED lighting which is no surprise given that LED head lamps are expensive, but also compact, light and consume very little power to produce very bright illumination. The front fat fully adjustable Showa BigPiston forks are beefy looking blacked out items that are, take note, upside down units that point to significant chassis performance or at the very least, a sportier bent of mind for the LiveWire than Harley's usual products. At the end of the forks is a sporty looking tyre and braking bits that seem very much like they came off the V-Rod. There is no ABS available though. If you look carefully, you can see a small radiator above the motor unit - a good sign of power.
The top triple-clamp is a very interesting confection too featuring extremely amazing looking mirrors that are mounted to the top clamp while incorporating the turn indicators in their stalks. It's a concept-y detail that will be hard to translate into production cost-effectively but it is a great idea if you're into customising or easy to do if cost isn't the issue - current electric bikes in the US are without exception premium items when they come with respectable performance - think Brammo, Zero, Lightning or Mission. Just above the mirror is a nearly flat and wide handlebar - in matte black of course - with a touchscreen that works as the instrument panel.
From the headstock starts a beefy looking matte-grey frame that will likely be aluminium and is the sort of arrangement in favour today to house batteries and power units and electronics in current electric motorcycles.  The clutchless transmission equipped motorcycle, Harley claims will hit the 100kmph mark within four seconds, limited to a top speed of 150kmph.  The subframe appears bolted on - easy if you're working crash damage out and you can see beefy direct-link monoshock nestled in the frame forward of the rear wheel. It is interesting that Harley's release talks of tyre-shredding performance - since electric motors usually produce a constant but high torque tyre-shredding is easy - but uses only a single front disc. One hopes the braking performance is better than the Street line  which has come in for criticism of its below average braking performance.
The LiveWire is a single-seater in this form but you can be sure that Harley will develop it into a line of motorcycles. This one is clearly taking afte a sport-naked sort of form and the sharp tail is a nod to the sporty intention while the comprehensive mudguard is a practical detail. Below the tail is a braced swingarm and the belt drive arrangement that Harley prefers for its motorcycles. The tyres are 120/70ZR17 front and 180/RRZR17 Michelin Scorcher 11. A ZR rated tyres is another concept-y detail because ZR actually stands 150mph or 240kmph. If the motor can actually propel the LiveWire which sounds like it has a jet engine in the video Harley released to these speeds, this will be one of the absolute fastest Harleys in the line up when it goes into production.
The video shows that the ergonomics on the prototype are sporty but not too committed allowing a slightly sporty cant forward without putting too much weight on the wrists or tucking the feet too far back. The position, in fact, in not unlike the Ducati Diavel at some levels.
The Harley LiveWire is still a running prototype that will set the baselines for Harley's future electric bikes but it is a significant move on the part of the American cruiser maker on many fronts. It confirms Harley's intention of expanding beyond the internal combustion powered space as the tightening emission norms, rising fuel costs and global carbon footprint awareness puts pressure on conventional engines. On the other hand, it is extremely interesting that the prototype they've revealed is not a cruiser.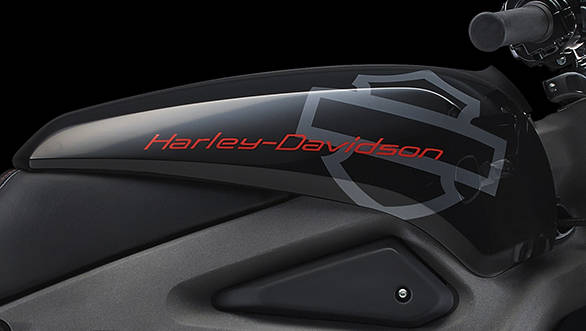 Harley have sort of painted themselved into a corner as a cruiser maker though admitedly this is a very large corner. However, their past non-cruiser projects like the XR1200X have proved to be less than popular and short-lived. The shape and form of the LiveWire combined with the new sensations of the electric powertrain should allow Harley to not only understand how to get past the potato-potato world but also guage the reaction of people to non-cruiser Harleys. The crowd that comes to check out the LiveWire will be critical to this because they will be the early adopters and the technologically curious, well known as the most likely people to be willing to try something new.
And something new doesn't even begin to cover how new the LiveWire is as an idea for Harley-Davidson. A major manufacturer like Harley publicly poking and prodding the idea of a future electric motorcycle is very exciting and we will watch the development of the motorcycle closely to see where it leads and what it means. Stay tuned. This story has only just begun to develop.
Here are images of the new Harley-Davidson Project Livewire
Price (Ex-Delhi)
Starts Rs 5,34,000
Related Stories