Harley-Davidson launches three new motorcycles in India
Harley-Davidson has launched three new motorcycles in India and now have an offering from every one of their seven families of motorcycles that are available abroad.
The all new 2015 Breakout will be locally assembled
The first of these bikes is the brand new 2015 Breakout. This is the only bike of these three that will be locally assembled - the other two will be full imports. The Breakout is a long and low motorcycle that is reminiscent of the classic gasser drag bikes of yore. Its a very attractive looking machine with a huge 21-inch front wheel, fat 240 section rear tyre and one of the longest wheelbases on any Harley-Davidson. Launched at Rs 16.28 lakhs the Breakout slots just above the Fat Boy and should prove to be quite the hit thanks to its eye catching looks.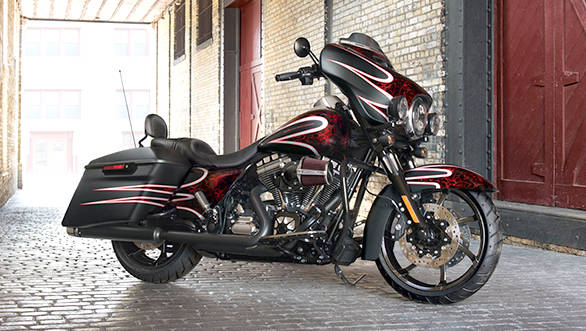 The Street is a more premium version of the already high-end Street Glide
The second bike is the Street Glide Special which is a further kitted out version of the already high end Street Glide. The Special gets a larger 6.5-inch touch screen entertainment system, a high gloss finish for the inside of the 'batwing' fairing and a lovely metal flake paint job with some smart pin striping. Being a CBU the Street Glide Special is priced at Rs 29.7 lakh ex-Delhi.
The CVO Limited is one of the most premium and expensive motorcycles on sale in India today
The final bike is the one of the big daddies of the Harley range, something that Harley says is now the most premium motorcycle on sale in India today. The CVO Limited introduces the Custom Vehicle Operations family of super premium Harleys to India and this bike has everything you could imagine, and some stuff you can't. It comes with one of the largest engines Harley makes - a 1800cc V-twin with both air and oil cooling called the Twin-Cooled Twin Cam 110. Entertainment wise it features a sound system and in built navigation just like on the Street Glide Special but where that gets two speakers this one gets four. Rider-passenger intercom is also standard. There's voice recognition for easy use of your Bluetooth connected phone and you can play music from a variety of media like USB drives, iPods, SD cards, AM, FM and more. Keeping the rider and pillion cosseted  are super comfy looking seats with integrated back rests for both. The weight for all this metal and luxury - 433kg. Only one number can out do the shock value of the CVO Limited's weight and that would be it's price. The CVO Limited costs Rs 49.24 lakhs ex-Delhi which easily makes it one of the most expensive motorcycles on sale today.
Price (Ex-Delhi)
Starts Rs 30,53,000