Harley-Davidson India offers flat track racing experience for enthusiasts
With the aim bringing a part of its racing history and popularising one of the oldest forms of motorcycle racing in India, Harley-Davidson India has introduced a flat track racing experience for motorcycle enthusiasts in the country. Harley-Davidson India debuted the Flat Track experience at the John Singh Speedway in Shahpura, near Jaipur, Rajasthan last weekend. The weekend consisted of a two-day masterclass and training session led by flat track racing legend and master of Di Traverso school in Italy, Marco Belli. The select group present at the session learnt tips and tricks from Belli, while being trained in techniques of handling a flat track motorcycle. On the first day of the event, participants were introduced to flat track racing, while races were held among participants on the second day.
Harley-Davidson India has also had four purpose-built flat track racing motorcycles made from its Street Rod models by Vijay Singh Ajairajpuria of Rajputana Customs. The motorcycles feature modified handlebars, seat units, fuel tank, exhaust, wheels and tyres. Note that these motorcycles have no front brakes, as using front brakes in the middle of a deliberate slide can be dangerous.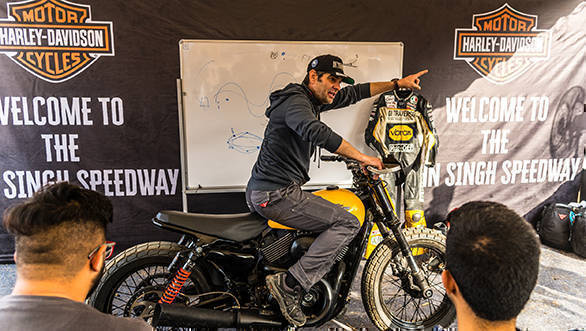 Marco Belli instructs participants at the Flat Track Experience
Flat track racing has its roots in the early 1900s and it gained popularity during the 1920s Unlike motocross or road races where the riders are spread out over a large area, flat tracks are small and oval-shaped.Harley-Davidson enjoyed a strong dominance on the dirt track starting with Joe Petrali in the 1930s. Harley-Davidson India and China MD Peter MacKenzie said that the company aims to garner more acceptance for the sport here and encourage the setting-up of amateur flat tracks in the country.