Harley-Davidson 975 Streetfighter, 1250 Custom and Pan America patent drawings leaked
Last year, Harley-Davidson announced three all-motorcycles, the Pan America 1250 adventure tourer, the 1250 Custom and the 975 Streetfigher that will be launched in production form by 2021-22. The American motorcycle manufacturer has now registered the patents of these three motorcycles with the European Union Intellectual Property Office and the patents drawings of the same have leaked online. The line drawings have revealed the production ready design details and also highlight the India-spec changes.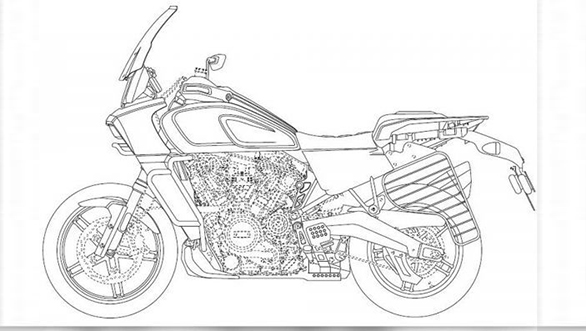 The Harley-Davison Pan America 1250, is set to launch in 2020. It will emerge from a new 500-1250cc middleweight platform that Harley is clearly using to explore other parts of the market outside of its traditional stomping ground
As seen from the patent drawings, Harley-Davidson has added a rear number plate on all the three motorcycles, while the 975 Streetfigher  and the Pan America 1250 get a saree guards. There are more changes in the design as compared to that of the concept which highlights the production ready bits. For example, on the Pan America 1250, the panel under the seat is much larger than the one shown in the concept, covering a substantial part of the rear sub frame. Also, instead of spoked wheels, the Pan America sports alloy wheels which highlight its more road biased tourer design approach.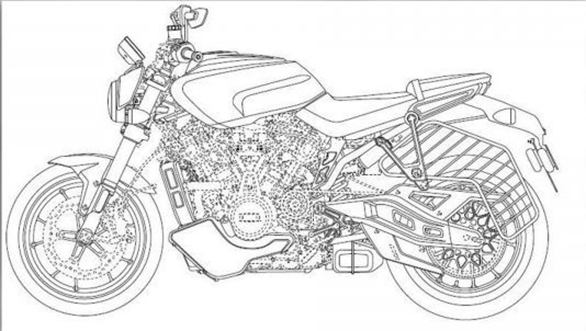 The Harley-Davison 975 Streetfighter is a 975cc V-Twin formatted into an aggressive streetfigher
Harley-Davison 975 Streetfighter 
At the time of announcement of new motorcycles from a new platform ranging from 500 to 1250cc, Harley-Davidson had also mentioned of a second platform, spanning 250-500cc that will be developed for Asia, with a planned alliance with an Asian manufacturer. The partner has not yet been named however it was confirmed that one of the new motorcycles will be primarily focused on India along with other Asian markets.
The Harley-Davison Custom 1250 is the most traditional looking of the products announced today. But it shows that the new platform will be modular and will be the basis for a range of motorcycles
Harley-Davison Custom 1250
Images source: EUIPO
Also read, 
Harley-Davidson announces major strategy update India to get 250-500cc class motorcycle
Image gallery: 2020 Harley-Davidson Pan America adventure tourer
Image gallery: 2020 Harley-Davidson Custom 1250
Image gallery: 2020 Harley-Davidson Streetfighter 975 sport naked