Government issues guidelines for setting up EV charging infrastructure
Given the government of India's strong push toward electric mobility. The Ministry of Power has now issued a set of guidelines to develop EV charging infrastructure in the country
The ministry's objectives behind this are to enable faster adoption of electric vehicles in India, promote an affordable tariff system for EV owners and operators of charging stations, generate employment and income opportunities for small business owners, support the creation of EV charging infrastructure and eventually create a market for this business. The government also wants to prepare electric distribution companies in a way that they can support this EV infrastructure.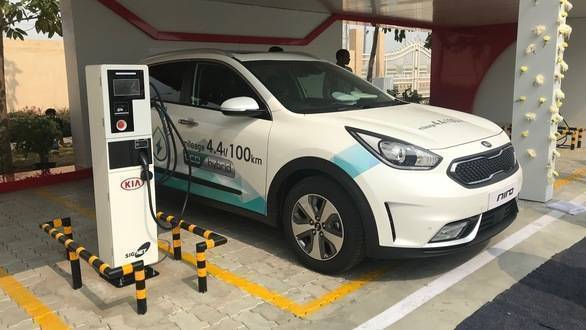 Kia Motors India has also installed an EV charging station at the Andhra Pradesh Secretariat
The government has laid out a few rules to achieve these objectives. Private charging at homes or offices will be allowed. There will be no licensing required to set up a public charging station and any individual or entity is free to set up one if they follow the standards and guidelines put forth by the government. Anyone setting up stations will be provided electricity connectivity on a priority basis from the distribution company operating in that area. They can also source their electricity from any other generation company.
For setting up these public charging stations, a set of guidelines will have to be followed. There will have to be three at least three fast charging points, one each of the CCS(min 50 kW), CHAdeMO(min 50 kW) and Type 2 AC(min 22 kW) configuration. They will also have to provide one charge Bharat DC-001 (15 kW) charge point and three charging points which supply Bharat AC-001 (10 kW). There will also need to be adequate supporting civil infrastructure and public amenities. The operator will also have to tie up with a network service provider to let customer book charging slots online. These guidelines do not apply to private charging points and to captive charging infrastructure for a company's own fleet.
For charging stations which will cater to heavy duty and long-range EVs, at least two charging points capable of supplying 100 kW each of different specifications (CCS and CHAdeMO) are mandatory.
The power ministry has also provided a set of guidelines pertaining to the locations of the public charging stations. There will have to be at least one charging station within a 3km X 3km grid and one every 25 km on highways. For long range and heavy duty EVs, there will have to be at least one station on each side of the highway every 100km. Within the city, heavy-duty EV stations will have to be within bus depots and transport nagars, etc. More charging stations can be set up only when these minimum requirements are met.
These norms will also be used by concerned state and union territory governments to set up electricity distribution networks and land acquisition. They can also choose to give priority to developing the already present facilities of oil marketing companies.
Distribution companies will also have to work with the Central Electricity Authority to create and maintain a restricted access database of these charging stations. The tariffs that these organisations charge will be determined by an appropriate commission but cannot be more the 15 per cent of the average cost of supply.
There is also a plan for the rollout of these charging stations. In Phase 1, which will span one to three years, all cities with a population of 40 lakh and above will be taken up for coverage. This also includes all expressways and major highways connecting these cities. In three to five years after this, for Phase 2, all big cities like State/UT capitals will be covered as well as highways connecting them.
A central nodal agency will be designated for the implementation of this roll out. Other government agencies like the Central Electricity Authority will support this organisation. State/UT governments will nominate a nodal agency for the region for the setting up of infrastructure. This will be the State DISCOMs as far as possible.
The central agency will then finalize the areas to be covered after consultation with the states. An implementation agency will then see to the installation and maintenance of the charging infrastructure.
These guidelines are a welcome development and a basic requirement to make electric vehicles a viable alternative to traditionally powered cars. While some aspect of the guidelines need for clarity, this document will at least clear up some of the uncertainty around the future of EVs in India.