Google Maps Mumbai Floods feature alerts users of road closure in India
The city of Mumbai has reported one of the highest rainfalls at 375.2mm since 2005. It has impacted the routine life of many as the rains have disrupted the public transport system. Many of the flights have been either diverted from Mumbai or have been delayed for hours. The weather department has already predicted heavier rainfall in the Mumbai, Palghar, Thane and Raigad regions in India. The dates for the same have been mentioned as July 4 and 5, wherein a rainfall of close to 200mm has been speculated by some of the private weather monitoring agencies. To help commuters travelling in the city, Google Maps has added a new feature called Mumbai Floods for both, Android and iOS devices, which basically alerts users of waterlogged areas and road sections. One, if stuck in a road which has been affected, can report in the Mumbai floods section on Google Maps. Here are the steps of reporting a closure.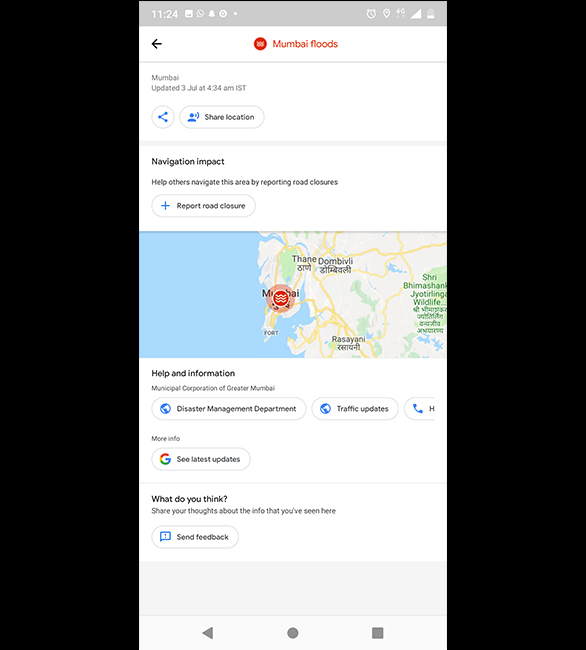 Open Google Maps and you will see the Mumbai floods button. Tap on it and you will see two options, Share Location and Report Road Closure listed under the Navigation Impact section. This will open a new window where you can select a location by zooming in and marking the exact area. Click next on the top right and you will see a window that will have sections such as date and time, direction of the traffic flow followed by the reason of closure which can be crash, roadworks, local event, nature or any other.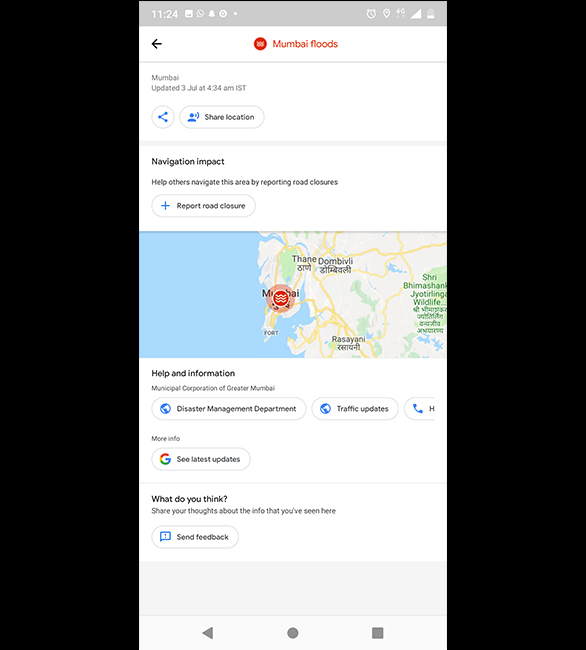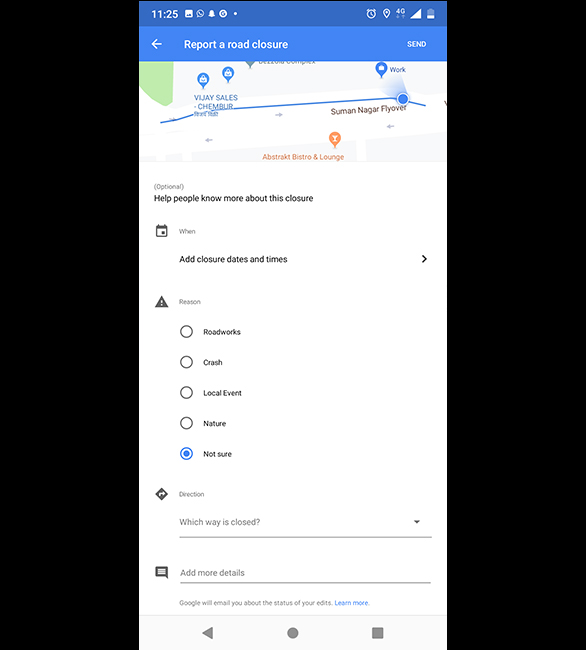 Earlier this year, Google Maps enabled detecting speed trap cameras a couple of kilometres ahead in your route. In addition to that, the popular navigation software also started showing a red icon indication to alert the user about any accident ahead, so as to let the user take another route. The company also added a feature which lets you share your live location with your family and friends to track real-time movements. In addition, Google Maps for Android devices, in India, comes with Stay Safer feature where users travelling in public vehicles can report in case the drivers deviate by more than 0.5km from the actual route.
Also read, 
Mumbai rains: All you need to know to drive safely this monsoon
Mumbai rains: Here are the areas you should be careful driving through
Mumbai rains: Five things to keep in your car when the weather is bad
Mumbai Rains: Top 3 things to do to recover your car if it's flooded