Get your Formula 1 fix with these classic F1 races that will be aired on Star Sports Select beginning April 10
Given that the 2020 season of Formula 1 is indefinitely delayed, the good folk at Star Sports Select have found a way to fill the void in the collective hearts of Indian F1 fans. Starting today, the 10th of April, every Friday, Saturday, and Sunday, they're going to air a classic Formula 1 race. Whether it's Senna versus Prost, or Schumacher versus Villeneuve, or Schumacher versus Hakkinen, they've got a list of really exciting grands prix to keep F1 enthusiasts entertained. The races will be broadcast between 7pm and 8pm IST on Fridays and Saturdays, and 7pm and 9pm IST on Sundays.
Here's a quick list of just some of the races they have in store for us: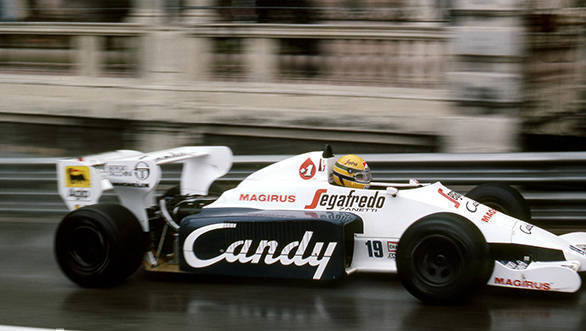 Ayrton Senna in action at the 1984 Monaco Grand Prix
1984 Monaco Grand Prix:
Remember that rain-soaked race at Monaco that signalled just what a force Ayrton Senna was to become in Formula 1? A classic F1 race if there ever was one, and a foreshadowing of the Senna vs Prost rivalry that would characterise much of the decade.
1992 Monaco Grand Prix:
Another Senna classic, this time though, with a neck-and-neck battle with Nigel Mansell, the eventual champion that year. Also one of the closest finishes in Formula 1 history, with Senna crossing the chequered flag just 0.2 seconds ahead of Mansell.
1993 European Grand Prix:
Remembered as the race in which Senna lapped every single driver on the grid, except for second-placed Damon Hill! A demonstration of Senna's sheer brilliance behind the wheel, and considered the finest example of his wet-weather mastery, and overall talent!
1996 Spanish Grand Prix:
Schumacher's first ever win for the Scuderia came in the rain, and it was proof that the term Regenmeister or 'rain master' was a fitting moniker for the German driver. After all, it was a race that he seemed to win with ease, even as 13 other drivers crashed out due to the torrential downpour.
1997 European Grand Prix:
The final race of the 1997 season, and the one remembered for that infamous collision between Schumacher and Villeneuve. Schumacher would then spin off and retire from the race, even as Villeneuve finished the race third, and took the World Championship. Of course, Schumacher would eventually be stripped of all points that he earned that season.
1998 Belgian Grand Prix:
The 1998 Belgian Grand Prix that we remember because a very angry Michael Schumacher ran into the McLaren pits and confronted David Coulthard, accusing him of trying to kill him. Schumacher had crashed into Coulthard while trying to lap him, resulting in his own retirement from the race.
1999 Canadian Grand Prix:
The one in which they all crash into the Wall of Champions, giving it its name! Damon Hill, Michael Schumacher and Jacques Villeneuve crashed into the famous wall (the Quebec Wall) at the Circuit Gilles Villeneuve. Eventual champion, Mika Hakkinen would win the race.
2000 Belgian Grand Prix:
Possibly the best overtaking manoeuvre in Formula 1 history - Mika Hakkinen and Michael Schumacher both lapped Ricardo Zonta, with Hakkinen emerging ahead after a very clever piece of F1 Tetris!
2003 Malaysian Grand Prix:
A race that was a sign of things to come. A young Fernando Alonso took his first pole position, becoming the youngest ever pole-sitter. And young Kimi Raikkonen took his first ever grand prix win.
2003 Hungarian Grand Prix:
It was at this race that Fernando Alonso became the youngest ever race winner in F1, breaking Bruce McLaren's record. It would be a long time before his next race win, but he'd already proven that he was a racer to watch out for, and a potential future world champion.