Geneva Motor Show 2018: 721PS Ferrari 488 Pista showcased
Ferrari has brought its latest offering, the 488 Pista to the Geneva Motor Show. The Ferrari 488 Pista is a hard-core performance version of the 488 and is a fast successor of the 458 Speciale and also the the other V8-engined offerings like the 360 Challenge Stradale, 430 Scuderia and 458 Speciale.
The new offering was rumoured to be called the GTO. Pista is Italian for race track which means that the Ferrari 488 Pista should be a delight on the tracks. The company states that the development of the 488 Pista is an evolution of its involvement in the FIA World Endurance Championship whereas the extensive weight saving solutions, along with engine, vehicle dynamics and aerodynamic developments have been sourced from racing cars.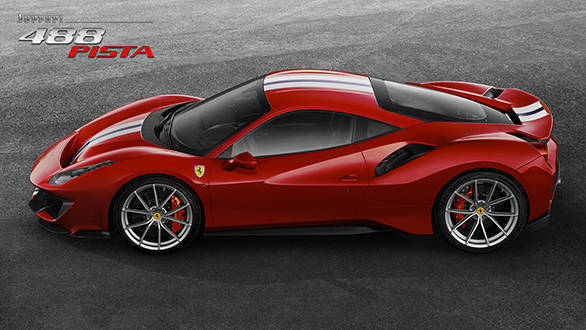 The Ferrari 488 Pista weighs 90 kg less than the 488 GTB. Additionally, it features the most powerful V8 by Ferrari that makes 721PS at 8,000rpm and generates a meaty 770Nm at 3,000 rpm. As claimed by Ferrari, the 488 Pista has a top speed of 340 kmph and can sprint from 0-100 kmph in 2.85s. Ferrari also mentions that the exhaust note is louder than that of the 488 GTB. The F1-inspired front S-Duct and the design of the front diffusers which feature a ramp angle that was optimised for the 488 GTE to create strong suction for increased downforce has been offered in the 488 Pista. Additionally, the rear blown spoiler is higher and longer and the shape has been optimised, resulting in 20 per cent increase in downforce compared to the 488 GTB.
Among the host of electronics offered in the Ferrari 488 Pista, there is electronic dynamic controls with Side-Slip Angle Control system (SSC 6.0) that incorporates E-Diff3, F1-Trac, the magnetorheological suspension (SCM). Also, the Ferrari 488 Pista comes equipped with Ferrari Dynamic Enhancer, a system that uses Ferrari software to adjust the brake pressure at the callipers.
Price (Ex-Delhi)
Starts Rs 4.4 Crore