Geneva Motor Show 2018: 2019 Porsche Mission E Cross Turismo revealed
Porsche has laid out its latest weapon in its fight for a share of the electrification pie by unveiling the 2019 Porsche Mission E Cross Turismo electric crossover concept. The Porsche Mission E Cross Turismo electric vehicle (EV), according to Porsche vice-president of design Michael Mauer, is a derivative of the original Porsche Mission E concept which debuted at Frankfurt in 2015, but offers a rugged SUV character without being a traditional SUV. To this end, the design of the Mission E Cross Turismo features a slightly higher ride height, knobby tyres on 20-inch wheels, LED strip fog lamps integrated into the hood, as well as dark cladding for the wheel arches. The headlamps distinguish the Cross Turismo as a Porsche E car, while also doubling up as an air intake. The production version of the Cross Turismo will be launched next year.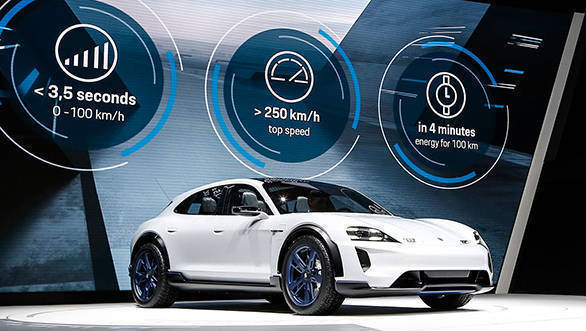 The concept vehicle has all-wheel drive through two motors and an 800-volt architecture, prepared for connection to the fast charging network. It can also be charged by induction, at a charging station or using the Porsche home energy storage system. With the latter, it will take less than 4 minutes to reach enough charge for 100km, and can manage of range of 400km after 15 minutes of charging. The total power of the motors is equal to 610PS.
This propels the Mission E Cross Turismo to 100kmph in less than 3.5 seconds, and takes 12 seconds to get to 200kmph, with an electronically limited top speed of 250kmph. To improve handling, the Cross Turismo gets a rear axle steering system and an air suspension system capable of raising ride height by nearly 2 inches for light off-roading.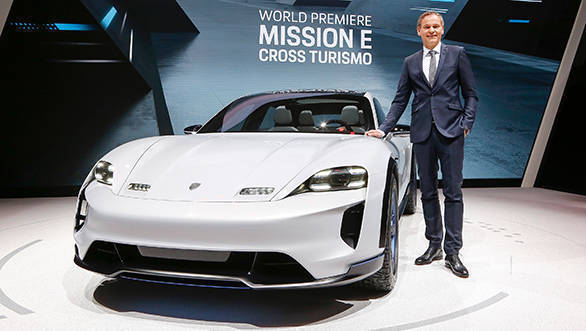 Here are more images of the Porsche Mission E Cross Turismo:
Also see, 
First look: 2019 Porsche Mission E Cross Turismo video