Genesis reveals images of its GV60 electric car
The GV60, Genesis' first electric car built on a dedicated EV platform, was officially unveiled today. The GV60 is built on the brand's specialised EV platform, the E-GMP (Electric-Global Modular Platform), which marks the company's transition to electrification.
Genesis is the luxury vehicle division of the South Korean mass vehicle manufacturer Hyundai. Genesis officially revealed images of the GV60 EV on their website. Genesis claims that the "G" in GV60 stands for Genesis, while the "V" stands for the vehicle's versatility. The Genesis 60 is the lowest model in the range, and it is part of the brand's evolving model naming system to match their distinctive aesthetic identity of athletic elegance.
The external design of the GV60 emphasises its high-performance image while also giving it a dynamic and sleek appearance. The GV60's front end has been designed specifically for electric vehicles. A sleek and spacious body is enhanced by the distinctive and innovative two-line quad lamps. Below the headlights resides a more athletic Crest Grille to improve the cooling efficiency of the high-voltage batteries in the underbody.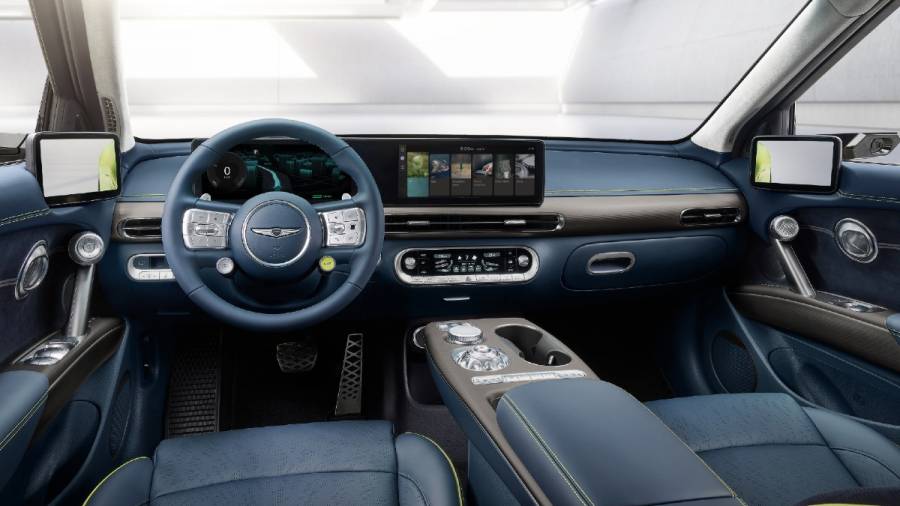 When viewed from the side, the GV60 resembles the presence profile of a high-performance coupe, and the digital side mirrors, which are connected to the camera and monitor system, contribute to the cutting-edge appearance. Two Line rear combination lights take on a dynamic form at the back and blend in with the spacious three-dimensional body.
The Crystal Sphere, a sphere-shaped Shift By Wire (SBW) that intuitively tells drivers when the vehicle is ready to go, is the most obvious element of the GV60's interior design. The Crystal Sphere becomes the car's mood lighting when the vehicle is shut off, adding to the beauty of the driving experience.
The GV60's crash pad has a broad and slender shape to complement the attractive interior, emphasising a high-tech ambience with a wide-screen integrated indication (cclC, connected vehicle Integrated Cockpit) that links with the cluster and AVNT (audio, video, navigation, telecommunication).
Also Read:
Genesis G70 Shooting Brake showcased at Goodwood Festival of Speed
Hyundai Genesis might enter India with the new 2021 GV70 SUV
2021 Hyundai i20 N Line variant details leaked ahead of August 24 unveil
Price (Ex-Delhi)
Starts Rs 6.8 Lakhs