Gautam Singhania finishes second in 2015 Ferrari Challenge Coppa Shell category
After winning the 1st Coppa Shell race of the final round of the 2015 European Ferrari Challenge, Gautam Singhania had a relatively sedate Race 2, where, in his 458 Challenge, he finished 7th in his category. The result in the final race of the season, however, was enough to seal second place in the 2015 Coppa Shell championship for the Chairman and Managing Director of Raymond, finishing behind his Kessel Racing team-mate Jacques Duyver.
Gautam Singhania in his Ferrari 458 Challenge that's painted in the Indian tricolour, during the race start at Mugello
Before Race 2, Singhania was 40 points adrift of championship leader Duyver, which meant the best he could finish in his maiden attempt at the Ferrari Challenge championship was second place. However, second place wasn't guaranteed and was under threat from Erich Prinoth of Ineco – MP Racing, who was just 9 points behind. The defense didn't start off too well in qualifying as Singhania couldn't match his performance from Race 1 where he had grabbed Pole position. In Race 2, he could only manage to qualify fifth in his category, but thankfully for him, Prinoth did worse by qualifying in eighth place.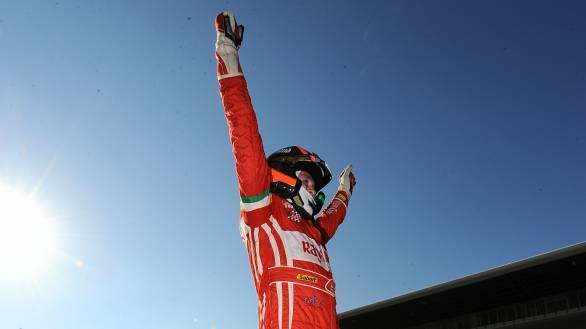 Singhania celebrates his second-place in the championship in the Ferrari Challenge Coppa Shell category
The start of the race looked good as Singhania moved up one place in the first lap itself, and then made another place in the subsequent laps moving into P4. An 11th podium place was in sight with 15 minutes remaining, but nothing could prepare him for what was transpiring behind him. Championship leader Duyvet wasn't content with sealing the championship and had moved in behind him for a move. Then Singhania suffered a near-catastrophe, as Duyvet made an overtaking move, and the tussle caused him to lose two positions. Importantly, Erich Prinoth had moved ahead of him, and Singhania was in danger of losing his second place in the championship. However, he managed to hold on to seventh place, which was enough for a 7-point lead over Prinoth in the championship, and an impressive second place finish in the Coppa Shell category with 171 points.
Singhania, in his debut season of the Ferrari Challenge, has had 10 podiums including a win, and a 2nd place in the championship with the help of his coach for the season Andrea Montermini – a former F1 driver and current GT driver.