Gaurav Gill to pilot Mahindra Adventure XUV300 R2 Petrol running on JK Tyres in 2019 INRC
After considerable speculation as to what tyres Gaurav Gill would be running on his Mahindra Adventure rally machine in the 2019 season, after his switch from Team MRF to JK Racing, we finally have clarity.
While it had earlier been revealed to OVERDRIVE that talks were still underway, and there was the possibility of Gill using MRF Tyres in the Champions Yacht Club Indian National Rally Championship only for the 2019 season (Mahindra had already committed to running the entire season of the 2019 INRC on MRF rubber), there is now an update. A compromise has been struck, Gill's rally machine will sport JK Tyre rubber for the duration of the season.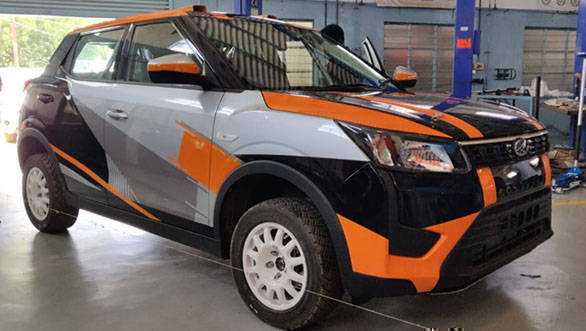 Mahindra Adventure's XUV300 is gearing up for the 2019 INRC season
What is also now known, is that Gill will drive a Mahindra Adventure XUV300 R2 Petrol for the 2019 season of the INRC.
Gaurav Gill is back with JK Racing after 12 years
His team-mate, Amittrajit Ghosh, will continue to run with MRF Tyres on his Mahindra Adventure rally machine. MRF and Mahindra Adventure have had a long term partnership that has continued on for several seasons now.
Ghosh's rally machine for the 2019 INRC season is expected to be a Mahindra Adventure XUV300 turbo diesel.
While OVERDRIVE was at a test session with the Mahindra Adventure team ahead of the first round of the INRC, we learned that development work on the car began late in the season. For this reason, the for the first round in Chennai, Gaurav Gill will run the 1.2-litre petrol with a largely stock powertrain. Power outputs have seen a rise of 40PS and 30Nm torque, thanks to an upgraded turbo, reworked head and a switch to engine management from Haltech.
The 1.5-litre diesel, which will be piloted by Amittrajit Ghosh, sees less mechanical changes, but after tuning produces 30PS and 60-70Nm more torque than stock. Both cars are running the stock 6-speed gearboxes for now, with a limited slip differential on the front axle, but we expect full development across the car by the second round of the championship. The cars will be built to FIA R2 specifications, and we're told the competitiveness of both powertrains will be closely evaluated before one is chosen as the sole powertrain for the remainder of the season, or even for the next season.
Price (Ex-Delhi)
Starts Rs 7.95 Lakhs