Gaurav Gill: Theory of evolution
"Evolve or go home. It's something that I keep telling myself," Gaurav Gill says.
We're sitting at a Cafe Coffee Day in Chikmagalur, surrounded by a whole host of rally drivers, navigators and tuners. Gill's just emerged the overall winner at the India Rally, the APRC season finale at Chikmagalur. It's been a tough rally. Not in the sense that there was any real threat to his chances of victory at the event, but in terms of the event itself - stages that left no room for error, the pressure of having to drive inch-perfect at his home rally, and the fact that the rally was physically more demanding than most. Gill holds his palms out for me to see and says that it's the first time that he can remember ever having sore hands after a rally. But that's just how many gearshifts he's had to deal with at the event. Of course, it's been well worth it since he's won.
Six wins of six rallies in the APRC this year for Gaurav Gill
"I was a little nervous about this event, because it's the India Rally," Gill says while telling me that he usually doesn't feel a touch of the nerves before a rally. But the India Rally is different. It's an event that shows just how far he's come. Not only because it's been organised by the meticulous Farooq Ahmed, Gill's one-time navigator, but also because it's the last event of the season that he's dominated entirely en route his second Asia-Pacific Rally Championship title. Yes, Gaurav Gill has come a very long way.
"Naturally he's exceptionally talented," says Glenn Macneall, Gill's highly experienced navigator. Macneall first navigated for Gill in the APRC back in 2008, and says that his talent was evident from the very beginning. "But it's hard in the beginning, because you know how talented he is, but from experience you also know how much he doesn't know. So his natural instinct was always to go over the limit, and we had to almost rein that in," Macneall says. The growth that he's seen in Gill over the years, however, has been immense. "It's about control, trying to be patient and not trying to overdrive the car. And that's what he's done this year."
Gill's well aware of just how well he's performed too. After all, he's managed to win six of six rallies he's competed in. And he attributes this comprehensive domination of the season to the fact that he's approached 2016 with a different mental set-up. It's helped. "I haven't put a scratch on the bumper all year, and I went flat out all the way," he says. Of course, he's speaking metaphorically, for, as Glenn says, Gill's also learned that he needs to be the fastest driver at the end of the season, not at each rally. But the biggest change that's led to victories in 2016 has been just how hard he's worked before the season.
"I knew I had to work harder this year," he says, pausing occasionally to respond to people who stop by the table to congratulate him on his victory. "The biggest problem that I face, and I'm not cribbing, it's just a fact, is that I do 1,500km a year in stage miles. These guys do 150,000km a year," he says vaguely pointing at the table across from us. There sit Fabian Kreim and navigator Frank Christian, Gill's team-mates. And most significant rivals. Of course, the figure might not be 100 per cent accurate, but it does make sense. While Gill is an MRF driver, Kreim is a Skoda factory driver. And as a factory driver who's already doing the German Rally Championship and getting endless testing miles under his belt, he's got an advantage over Gill. But it's an advantage that Gill's somewhat negated by his years of experience, and by being prepared.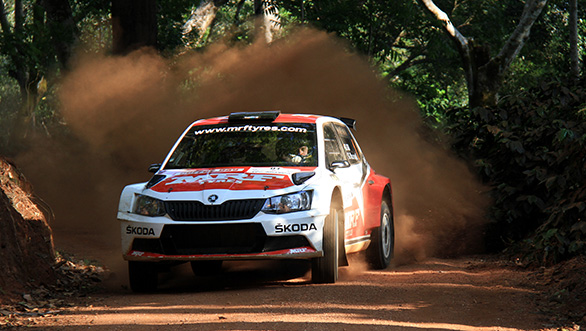 In action at Chikmagalur, his sixth win of six rallies this year (Photo: Alisha Vikram)
"Physically we're strong enough to drive these cars, but it's the mental preparation that matters," Gill says. "How to drive, how to corner, your pacenotes. There are so many parameters," he lists out, while also stating that he largely focusses on his own driving. It involves, he tells me, watching a lot of videos - on-board footage of himself and other drivers, reading about the techniques that other drivers follow while rallying, reading about the car itself. Every little bit of information helps. "Fortunately, I'm at a stage in my career where I can tell just by watching a driver what he's about - where he's braking, where he's shifting, what gear he's in," all things that help him realise where he can gain or lose time himself.
But more than that, Gill believes that it's important to know the machine that you're driving. Which is why the fact that he's behind in terms of miles under his belt can sometimes cause him some worry. "People keep saying that I've driven these rallies before, but every time you drive a stage, it's different. Every time you come around to a corner, it's a different corner," he says. Which is also why he's so particular about the way he crafts his pacenotes. They're, for the future as well, prepared for as many contingencies as possible, including rain, bad weather, being the first car on the road, the last car on the road. Chikmagalur has been particularly tricky, with the combination of Macneall and Gill, who won their first APRC title back in 2013, having to contend with pages and pages of pacenotes, and five or six calls being made in advance.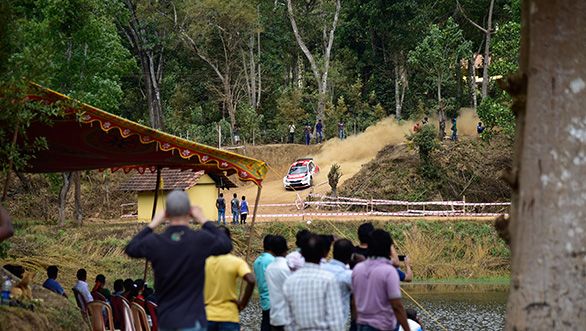 It's as terrific to watch Gill's fans cheer him on at his home rally, as it is to watch his inch-perfect car control
However, as Gill says, "I'd rather know the car than the rally." He likens it to using an iPhone to just make phone calls, while not being aware of its various other functions. There's so much more potential that the phone has, but you can only unlock that potential if you're allowed to spend time with it, learn about it, he says. "It's the same with the equipment, in this case the car. You're nothing if you don't know your machine," he says. Which is also why there's a particular amount of satisfaction to be gained from beating his team-mate. "Every time I beat them, it's a big deal," Gill says with a smile.
A victorious Gaurav Gill and Glenn Macneall at the Malaysian Rally at Johor Bahru - where they sealed their second APRC title
In the midst of my conversation with Gill, he gets pulled away for an interview with the people from APRC TV. In fact, the whole time that we've been talking, there have been people interrupting us to either congratulate him, or to cut in for an interview. Gill's been polite and focussed on the interview as much possible, before taking this small break for the TV crew that are in a hurry. He's surrounded by the media. A far cry from the days during the APRC at Johor Bahru in 2008, where I remember a younger Gill going about his business uninterrupted by fans and media alike. Of course, back then he wasn't a double FIA APRC champion. But while Gill might have changed in that he's self-assured and well aware of his talent, from the outside it seems like he's as much of one of the boys in the Indian rally scene as he was in the past. In fact, he congratulates young Karna Kadur who has just won the INRC category at Chikmagalur, by saying "One free training session for you ahead of the next rally." Years ago Gill was the one getting tips and training sessions from the older rally drivers. Now it seems like it's his turn to pass on wisdom to the next generation.
Throwing up some dirt in the stages at Chikmagalur
And it's in stark contrast, perhaps, to the cut-throat in-team rivalry that he needs to deal with in the APRC. Team MRF Skoda is a team that likes to win, which is why Gill's always been partnered with the very best up-and-coming drivers from Europe - whether it was Esapekka Lappi, Jan Kopecky, Pontus Tidemand, or now reigning German Rally Champion, Kreim. Beating Lappi to the title was something that, Gill says, was partially down to luck. Each of them had made one mistake, and then at the final round of the season, Lappi crashed once again, handing the title to Gill. "To win once, that's easy," Gill says. "Because you're trying to bring the guy on top down. But to win the second time, that's harder, because everyone's trying to pull you down," he smiles. Then he pauses for a second and says, "This is a sport where if you don't win, someone else will."
Now that he's got two APRC titles to his name, though, no one can accuse Gaurav Gill of not winning. But there are bigger goals that he has. Things on his bucket list. Like? "The WRC isn't unrealistic," Gill says, "but it isn't easy." There's another goal that's closer to his heart perhaps. The Dakar. "I'd like to do the Dakar with an Indian manufacturer, even more than I'd like to do the WRC," he smiles.
But how does he plan on getting there? The answer is simple. He plans on working on himself. "My uncle once told me that if you have phenomenal car control, you can achieve everything." Of course, the uncle in question is Upkar Gill, a legendary name in Indian rallying, which is why Gill took his advice so seriously. "Every car I drive, I try to drive it way over the limit," he says. It's all in an attempt to make sure that his ability to control the car is so supreme that he can make up for any other shortcoming.
Gaurav Gill on the stages of Rally Hokkaido, Round 4 of the 2016 Asia Pacific Rally Championship
He's also fairly good at analysing himself and his own level of skills. "Most drivers are at 97 per cent; it's very few drivers who are between 97 per cent and 100 per cent," he declares. "Within the APRC, I'd say that I am above 97 per cent, but not yet at 100 per cent." But he's working on it.
It's all a part of Gill's ongoing evolution in his quest to make himself the best rally driver that he can. "The machines are always evolving; they're always getting faster. But you're getting older," he says, which is why he keeps telling himself that if he doesn't evolve, he'll be out of a job. But beneath the discipline, the routine, the training, the preparation, the hardship of having to sit by on the sidelines for two years and watching his team-mates take home the titles is a very simple truth that helps him stay motivated. It's that he doesn't need to force it. "I always tell people I love motorsport. I don't need to try and stay motivated, because I love the sport. I can't picture my life without motorsport."
Which is why he works tirelessly to ensure that he's better than everyone else. "Discipline," he tells me is the biggest key to success in motorsport. It's also the biggest life lesson that motorsport has taught him. "Discipline, passion and commitment are my three favourite words," he smiles. Discipline to do motorsport justice, passion for the sport itself and commitment to the sport. "In the beginning, I was committed to the sport, but I wasn't disciplined," says an all grown-up Gaurav Gill. Of course, all of that has changed now. And his two titles are a testament to exactly that.