French auto startup Lesage Motors opens order books for their first car
Automotive startups are mushrooming all across the globe lately and one such name is Lesage Motors that is born out of France. They have a rather interesting product line in mind. Electric cars and their modularity make it relatively simple to create a basic skateboard-like vehicle architecture and then design different top-hats around it. Lesage has been working on something similar spec, although their product won't necessarily be pure electric. Taking inspiration from automotive designer Colin Chapman's philosophy of "Light is right," Lasage Motors have put together a lightweight architecture for a two-seat roadster, that is powered by mechanicals from French automotive giant, PSA.
The architecture uses a 156PS, 240Nm, 1.2l turbocharged petrol engine from Peugeot, transversely mounted and mated to a six-speed gearbox and rear-wheel drive configuration. An electrified derivative of this architecture makes uses of an 100kW electric motor mated to a 50kWh battery pack. This electric powertrain is a Peugeot make too. Their first offering, very unimaginatively named '01' has classic styling cues. The petrol-powered 01T (inspired from the Ford Model T?) weighs about 650kg, which translates to a 0-100kmph sprint time of 6.5s and a top speed of 170kmh. The electrified 01E weighs 950kg, which is good for a 0-100kmph run of 7.5s and a top speed of 150kmph. When you aren't gunning for those numbers, the 01E should be able to achieve a range of up to 340km, suggest the specs of the car.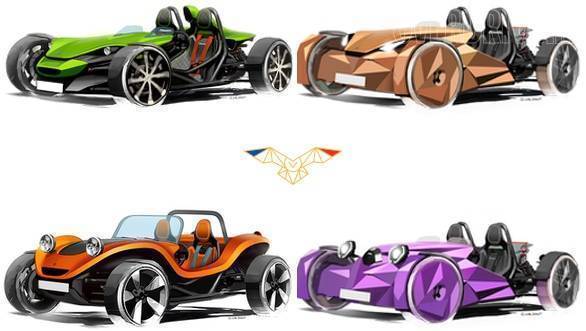 Lasage will only make 50 units of each variant and every year, there is a new design that will be put together atop the two powertrain options. Lasage also says that while the handcrafted parts will be supplied by them, the simplicity of the Peugeot powertrains ensures each service with any trained service centre, thus ensuring reliability and longevity of these limited models. Lasage has opened the order books for the first batch of cars and once the preorders fill up, they will put the 01 models into production. The 01T is priced at 54,000 euros and the 01E at 62,500 euros.