Four-wheeler sales in India for June 2016
Just like two-wheeler manufacturers in India, the passenger vehicle manufacturers too had a positive month in June 2016. As usual, some manufacturers like Hyundai and Mahindra and Mahindra have registered a modest growth of 9.7 per cent and 7 per cent, respectively. Renault India stands out this month with a phenomenal 173 per cent jump in sales. Here's a round-up of the sales numbers from individual manufacturers.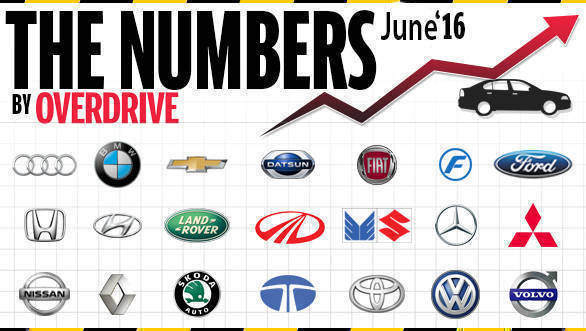 Ford India
In June 2016, Ford India sold 9,469 units which is more than double of the 4,527 units it sold during the corresponding period last year.
Anurag Mehrotra, executive director - marketing, sales, and service at Ford India, said, "The recent announcements of Seventh Pay Commission, along with the prediction of normal monsoon and scrappage policy, are keeping the industry optimistic about future growth. At Ford, we have continued to maintain a strong growth momentum, thanks to our transparent and industry first service initiatives like Service Price Promise and Parts Calculator. We are equally gratified by the customer response to our freshest product portfolio on offer and will soon strengthen it with the introduction of iconic Ford Mustang."
Hyundai Motor India
The company has announced a 9.7 per cent jump in sales for June 2016. Hyundai India sold 39,806 units in the month of June 2016 while it had sold 36,300 units during the corresponding period last year. Speaking on the sales growth, Rakesh Srivastava, senior vice president, sales and marketing, Hyundai Motor India Ltd., said, "Hyundai volumes grew by 9.7 per cent with sales of 39,806 units with strong pull performance of volume models the Grand i10, Elite i20 and Creta and on the buildup of positive environment with good beginning of monsoons, the announcement of Seventh Pay commission for Central Government Employees."
Honda Cars India Ltd.
Honda Cars India Ltd. has registered sales of 11,407 units in June 2016. During the corresponding period last year it had sold 18,380 units. Commenting on their June 2016 sales performance, Yoichiro Ueno, president and CEO, Honda Cars India, said, "The shift in consumer preferences led to high stock of diesel vehicles at our dealerships. As a deliberate measure, we have been rationalising wholesale dispatches to correct the stock situation at our dealerships. The market is good and our retail sales were much higher than wholesales. The stock levels at our dealerships have been almost normalised, and we expect that our wholesales would match the retail sales level in July. Our new model BR-V has received good acceptance in the market with over 11,000 cumulative bookings. We also recently achieved cumulative sales milestone of 200,000 units for Honda Amaze."
Mahindra and Mahindra
Mahindra and Mahindra has announced a 7 per cent growth in sales in the domestic passenger vehicle segment. The company sold 34,991 units in June 2016, compared to 33,282 units in June 2015.
Speaking on the company's automobile sales performance, Pravin Shah, president and chief executive (automotive), Mahindra and Mahindra Ltd., said, "At Mahindra, we are happy to have achieved an overall growth of 11 per cent during the first quarter of the current financial year despite various challenges. With the advent of a good monsoon, which we are currently witnessing, we hope to see improved sentiments and a buoyancy in demand thereby enhancing rural prosperity. We do hope that the Honorable Supreme Court while taking a decision on diesel vehicles ban in NCR region will take cognizance of all the facts, including the role that the automotive industry plays in the country's industrial growth."
Renault India
Renault India has announced a fantastic sales growth of 173 per cent in June 2016 over the corresponding period last year. The company has sold 11,837 units in June 2016 while just 4,340 units sold in June 2015. In an official release, the company has stated that it is working on increasing its sales and network in India. The company currently has 210 dealers in India and intends to increase that number to 270 by the end of this year.
Toyota Kirloskar Motor
The company has seen a good sales growth of 29 per cent in the domestic car market with 13,502 units sold in June 2016. Speaking on the June 2016 sales, N. Raja, director and senior vice president, sales and marketing, Toyota Kirloskar Motor, said, "We launched the Innova Crysta last month and have received an overwhelming response from our customers. We would like to thank our customers for their trust in Toyota. The Innova Crysta has a waiting period of two to three months, and we would request our customers to be patient with us so that we can bring the best products to them."
"We respect the honorable court's judgment regarding cleaning the bad air quality around us. We would fully support the authorities for creating a better environment for our future generations. We are confident that honorable court will consider our submissions during the next hearing in July and hope the matter is suitably resolved at the earliest," he further added.
Price (Ex-Delhi)
Starts Rs 74.62 Lakhs
Price (Ex-Delhi)
Starts Rs 6.32 Lakhs
Price (Ex-Delhi)
Starts Rs 9.99 Lakhs
Price (Ex-Delhi)
Starts Rs 4.5 Lakhs