Six scramblers to look forward to owning
Café racers were the big thing the past few years. Now, that seems to be changing. Just take a look at the machines that have been making waves recently. They aren't the tyre smoking, wheelie popping, boy racers' toys. The motorcycles that have been getting a lot of attention of late are the kinds that are most happy the farther away from blacktop they are – scramblers. And just to drive our point home, we've put together a list of some of our favourite ones from EICMA and before.
Triumph Street Twin Scrambler
Triumph Street Twin with the Scrambler Inspiration Kit
The original Triumph Scrambler isn't around anymore. But what is soon going to take its place is the Street Twin Scrambler. When the Street Twin was launched, so were three 'inspiration' kits for the bike – Scrambler, Brat Tracker and Urban. The Scrambler kit gets a restyled Vance and Hines exhaust, a flat handlebar, different seats, different foot pegs and different mudguards. Other specs remain the same as the Stree Twin – 900cc and 80Nm of torque. On the whole it looks like a modern version of the more retro Scrambler that it replaces. Now for the good news. Triumph will most likely launch the new Bonnevilles at the Auto Expo in February. This also means that the Street Twin too is due in February. And since the Scrambler is essentially a kit, we're pretty sure the 'inspiration kit' will also be launched here by then.
Triumph unveils all-new 2016 Bonneville range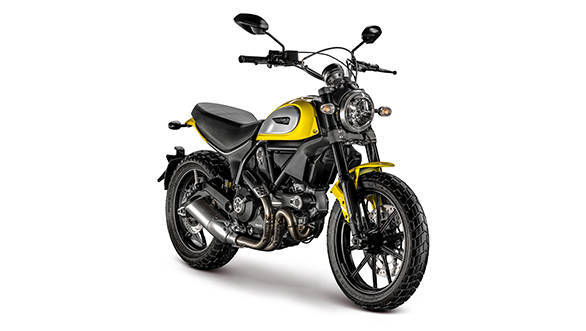 The second motorcycle to take the scrambler name is also a more modern interpretation of the genre. The Ducati Scrambler is what Scramblers become when they evolve with the times. It is one of the best looking motorcycles in the market today and is a Ducati hiding in dirt bike clothing. We've ridden this one extensively and can vouch for its capabilities off-road. It gets long-ish travel suspension (150mm front and rear) and high ground clearance too. We love the manic nature of the engine and those excellent tyres it comes shod with that works as well on the tarmac as it does off-road.
We're not all that crazy about those almost ape-hanger handlebars, though. But the good thing is there are so many customisation options to it that you'll never be unhappy. Handlebars, sump guards, headlamp grilles – you name it. But the best part is, if you want one, you can walk into your nearest Ducati showroom right now and buy one for Rs 6.91 lakh (ex-Mumbai).
But, you might want to wait. The smaller, 400cc Scrambler has just been unveiled at EICMA. While you can get all the details on the new Scrambler here, the real question is whether it will actually come to India. The problem is that with the state the CKD sub-500cc segment is in India, if the Scrambler does come to our market we're looking at an estimated price of Rs 4.5 lakh. This, of course, is thanks to the fact that Ducati will actually want to price their motorcycle higher than the competition to keep up the 'premium'-ness. At that price, wouldn't you much rather scrape together two lakh more and get yourself the full-size Scrambler?
As for the hopes of a locally manufactured Scrambler, it looks highly unlikely. After all, Ducati does have a manufacturing facility in Thailand where all the Ducatis that come here are made. And considering India already has a free trade agreement with Thailand, the setting up of a local manufacturing facility to sell more Little Scramblers seems like an investment that any management wouldn't approve of.
Read our comparison of the Ducati Scrambler and the Triumph Bonneville in Ladakh 
Moto Guzzi V7 II Stornello
Moto Guzzi  are one manufacturer that have always had a motorcycle that goes up with any Triumph in any segment that they are in. They have the V7 Café to the Thruxton, V7 Stone to the Bonneville and now the V7 II Stornello to the Scrambler. Showcased with other updated V7s, the Stornello also gets all the new bits that the other did. It uses the same transverse V-twin as the others that makes close to 48PS. It also gets various scrambler bits like a high mounted exhaust, taller forks, rubber knee pads on the tank, off-road footpegs, semi-off-road tyres and a long flat seat. If you want one, you better hurry up. The Stornello is a limited edition model and only 1,000 units will be made, all individually numbered.
Now Moto Guzzi have been trying to get their act together in India for a while now. The Piaggio Motoplex in Pune is a step in the right direction. But until they figure out a good dealer and service network that is more than just the single showroom in Pune, things are going to prove difficult. Then again, chances are that by the time they do figure this out, the 1,000 Stornellos will be long gone.
Benelli Leoncino
If Benelli's Chinese connection has been causing it to lose some fans, this is where it will stop. Among a whole bunch of interesting motorcycles that they showed at EICMA 2015 was this – the Leoncino. What is it? It is Benelli's way of taking the fight right to Ducati's backyard. On paper, it will go up directly against the Ducati Scrambler Sixty2. It uses a 500cc parallel twin motor that makes 48PS and 45Nm.
It looks quite insane in the red and black paint that it was shod with for EICMA. Dual discs up front, upside down forks, proper off-road tyres, and Lion of Pesaro sitting on the tiny front fender are all details that we love already. It looks nothing like the original Leoncino, but we're not complaining. With the DSK-Benelli connection going full swing now, it is only a matter of time till this one makes it to India. ETA? End of 2016 or early 2017.
BMW R nineT Scrambler
The R nineT was one of our favourite motorcycles to come out last year. This year, the same motorcycle is back, but as a Scrambler that looks like it's just itching to be let loose on the dirt. It uses the same 1170cc boxer twin that makes close to 110PS and 116Nm.
Cosmetic changes include a high mounted exhaust, 19-inch front wheels with the option of spoke wheels too, off-road tyres, higher handlebars and a whole bunch of accessories that are specially made for the Scrambler. Now the R nineT has been on sale in India for a while now. That means that chances are the Scrambler version too will make it to our market soon. Good news though is that, the Scrambler is supposed to be the most affordable R nineT, which means you won't be made to pay a heavy premium for all that off-road readiness.
Suzuki VanVan 200
This year seems to be year when a lot of historical names have been given a revival. And joining that list of revivals is Suzuki, although the VanVan never really went away. What has happened to it now is an addition of a few ceecees. So now, instead of the 125cc mill that it used to run, the VanVan has gotten a 199cc, air-cooled, single. It gets all the VanVan signatures bits like the fat tyres, wide handlebars, flat seat and a measly kerb weight (128kg). It is one of the oldest and most charming designs around and for that, we love it.
Will it come to India? It has two routes for arriving – as an import or as a local product. It doesn't make sense to import it because that would mean getting it homologated (below 800cc, hence). And local manufacture doesn't really make sense because it doesn't share any bits with the Indian made Suzukis and setting up a line for a motorcycle that might not even see a lot of volume is not really feasible. So pictures on the wall it is.
Price (Ex-Delhi)
Starts Rs 16,50,000
Price (Ex-Delhi)
Starts Rs 15,55,000
Price (Ex-Delhi)
Starts Rs 7,99,000
Price (Ex-Delhi)
Starts Rs 12,15,800