Founder of Nikola Motor, fuel-cell transit revolutionary, resigns amidst claims of fraud
The founder and executive chairman of alternate-fuel truck company Nikola Motor, Trevor Milton, has voluntarily resigned from his post after allegations surfaced from a financial research firm that he had made false statements to investors. Milton, in a statement released on his Twitter account, has said that he asked to be removed from his post to distance himself from the company, which recently announced a strategic manufacturing partnership with General Motors, while he works on defending himself against what he claims are false allegations levelled against him. Milton will be replaced by Stephen Girsky, a former executive with GM, who was already on the board of directors.
Nikola Motors shot to some amount of global fame in 2016, with a goal to disrupt the transportation industry, with the Nikola One, a hydrogen fuel-cell electric semi-truck capable of 1,900km of range on hydrogen technology, developed in-house. Famously, Nikola went on to file patent infringements against Tesla for the Tesla Semi in 2018. Deliveries for the Nikola Two, the successor to the One, were expected to begin in 2019 but haven't begun yet. Another product, the Tre battery-electric semi-truck was to start deliveries in 2021. More recently, the company released information on its battery-electric pickup truck, the Badger, to be developed through a a strategic alliance with General Motors.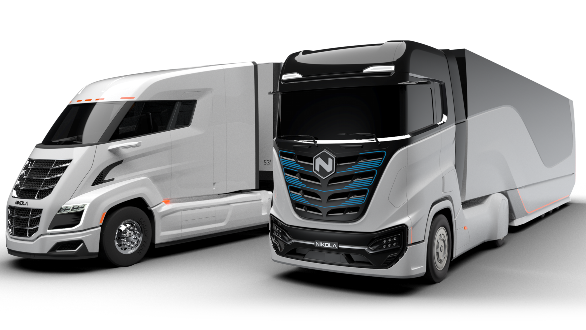 The Nikola Two and Tre, the company's flagship trucking products
The company was valuated at over $26 billion this year, despite forecasting zero revenue for 2020, and claims over 14,000 reservations for its fuel-cell electric trucks, reportedly amounting to over $10 billion in sales. However, financial research firm Hindenberg Research, has alleged that Nikola's claims to proprietary technology are unfounded, and that its revolutionary hydrogen fuel-cell tech and battery electric tech don't exist, while its order books are inflated.
The Nikola Badger will be manufactured by GM, with GM-sourced technology
Despite the allegations, General Motors has gone ahead with the strategic partnership with Nikola Motor, seen as an innovator, and will own an 80 per cent stake in the company. GM will be the supplier for the fuel cells, provide access to its battery technology and manufacture and engineer the Nikola Badger.
Related Stories