Formula E: Mercedes-Benz EQ Silver Arrow 01 unveiled at Geneva
Mercedes-Benz will make its Formula E debut in the 2019/20 season. In preparation for this, the Mercedes-Benz Formula E team has unveiled its race car for the the series, the Mercedes-Benz EQ Silver Arrow 01 at the 2019 Geneva Motor Show.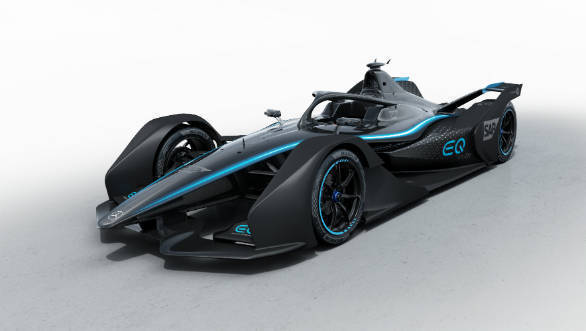 The electric race car carries a teaser livery for this unveiling, the final design will be shown ahead of the season opener. The blue line along the side of the car signifies the EQ sub-brand and is in relation to the similar green theme on the F1 car. The car is finished in a mix of matte and gloss grey while the star pattern at the rear signifies all the traditional values of the Mercedes brand.
When this car debuts at the sixth season of the Formula E championship, Mercedes-Benz will become the only car maker to have a presence in both Formula E and Formula 1. The company hopes that the two platforms taken together will constitute an important technology driver for the entire Mercedes family and will help to shape the future of the automobile industry.
Like all other Formula E cars, EQ Silver Arrow 01 will be powered by a 52 kWh battery pack. This makes 250 kW (340 hp) in practice and qualifying mode, dropping to 200 kW (272 hp) in Race mode. In the unique Attack and Fanboost modes in Formula E, the motor puts out 225 kW (306 hp) and 250 kW (340 hp) respectively. The car gets from 0 to 100 kmph in 2.8s and has a top speed of 280 kmph.
Speaking of this development, Toto Wolff, Head of Mercedes-Benz Motorsport Toto Wolff, said, "The countdown to our entry into Formula E has now officially begun. Our team has obviously been working behind the scenes on this project for quite a while now, but when you see the car in our teaser livery for the first time, you know that the project has entered a serious phase."