Formula E: BMW works team latest addition to Season 5 line-up
BMW has confirmed that it will run as a factory team in Season 5 of the FIA Formula E championship. Of course, the German manufacturer has been involved in Formula E since Season 2 of the championship, which is when they began supplying engines to the Andretti outfit. In March this year, they were granted manufacturer status for Season 5, but have now announced that they will take over the Andretti squad and run as a full factory outfit from the 2018/2019 season.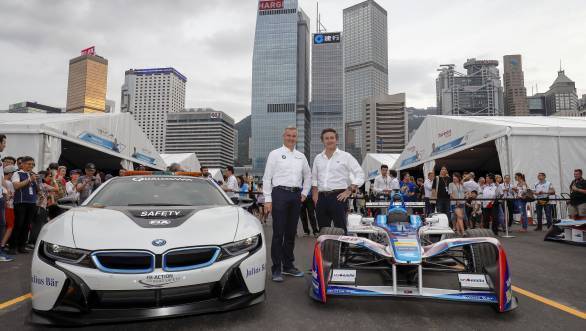 BMW has confirmed that it will be part of the Formula E as a works team from season 5
BMW is now the second German manufacturer, after Audi, who will compete as a full factory outfit in Season 5 of the championship. Earlier this month Audi revealed that they would take over the Abt Schaeffler outfit for the fifth season of the sport.
"Formula E has developed fantastically as a racing series and, as a new, technology-based project, is perfectly suited to the BMW Group and BMW Motorsport," said BMW motorsport boss Jens Marquardt.
He went on to say that it was important for BMW to demonstrate their "technological expertise" which is why "we have shown a firm commitment to this project through the registration of BMW AG as an official manufacturer and are facing up to the growing competition there."
"The series represents a completely new challenge for us – a challenge we are happy to take on together with Andretti Formula E," added Marquardt.
Meanwhile, team owner Michael Andretti added: "We are excited to expand our partnership with BMW and serve as BMW's official Formula E works team beginning in season five. BMW is leading the automotive future with the BMW i line and their innovation in electric car technology. I couldn't pick a more prestigious or historic manufacturer to work with in Formula E."