Ford takes the wraps off new EcoBlue diesel engine
Ford has revolutionized petrol engines with their EcoBoost lineup, providing a good balance of power and efficiency in a compact package. This resulted in its 1.0-litre engine winning the Engine of the Year award four times in a row. Ford has now applied the same principles to its diesel engines, and has revealed the first of many next-gen diesel engines. The all-new 2.0-litre EcoBlue engine has been developed from scratch, and features multiple new innovations which help give it improved performance, efficiency and emissions over the outgoing 2.2-litre TDCi engine.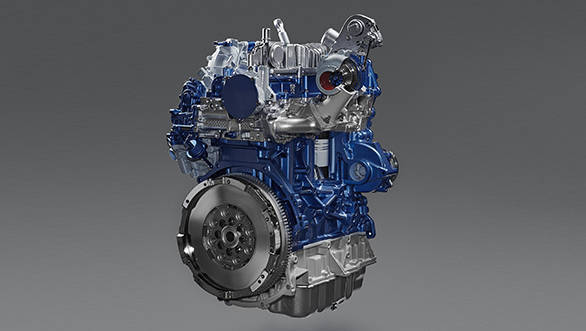 Some of the innovations in the new EcoBlue engine are a new low-inertia turbocharger, an offset crank to reduce transverse piston load on cylinder walls and an optimized camshaft to name a few. The low-inertia turbocharger is made of rocket-grade materials, and is able to spool up quicker due to its lighter weight, and as a result is able to give better low-end torque. The engine is thus able to produce 340Nm of torque at a lowly 1,250rpm, 20 per cent more than the outgoing TDCi engine.
All of these improvements have also resulted in efficiency gains, with 13 per cent improved fuel economy and over 10 per cent reduction in CO2 emissions. The engine will be offered in a multitude of power tunes at 105PS, 130PS and 170PS. Ford plans to have the EcoBlue line up to have powers varying from 100PS to 240PS, with a 1.5-litre under development.