Ford plans to use zero drinking water for vehicle manufacturing by 2020
Car manufacturing plants are known for excessive water consumption for different processes like washing, cooling, air-conditioning, surface treatment and in paint spray booths. Many car makers are now trying to bring the consumption down with innovative practices. American car manufacturer, Ford today announced its plans to drastically reduce water consumption by 72 per cent at all its manufacturing plants.The company claims to have saved 377 billion litres of water from 2000 to 2015 which is a decrease of 61 percent from the previous consumption.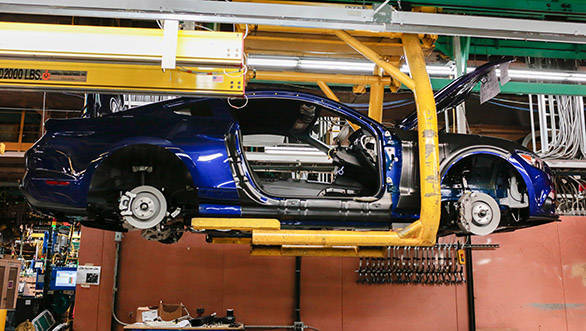 Ford began practicing water saving measures in 2000 as a part of the Global Water Management Initiative. The company stated that it achieved the reduction in water consumption with processes like the 3-wet paint process and minimum quantity lubrication. The 3-wet paint process is an automated application of the primer, base and enamel after quick succession when they are in wet condition. In addition to cleaner emissions, this process helped Ford attain a 20 to 25 percent reduction in the processing time as well. Ford's green machining initiative also includes MQL i.e. minimum quantity of lubrication. The manufacturer claims that with the near dry machining, it has not only reduced water consumption but also improved the air quality around the manufacturing plant. Presently, MQL has been implemented in Ford's six plants located in Europe, North America and Asia Pacific regions.
Ford set out to reduce water use in 2000 with its Global Water Management Initiative. The company's strategy aligns with core elements of the CEO Water Mandate, a private-public initiative launched by the UN Secretary General in 2007 and adopted by Ford in 2014, said the company in an official statement. In addition to the green initiative that the car maker is practicing in its own plant, Ford has also shared the same with its vendors and suppliers for a stronger impact.
The Ford India plant located in Chennai too is a zero discharge plant, for all the water is recycled for various usage purposes in the manufacturing facility, lawns etc. Ford also stated that ever since the plant started manufacturing, the Chennai plant has been a pioneer in providing purified drinking water to each and every plant worker. Currently, the expanded mineral water plant can produce 10 kiloliters of drinking water a day.
Even at the company's Sanand plant, the waste heat recovery system in paint shop results in less fuel consumption. Additionally, through their zero liquid discharge concept, the plant recycles wastewater using processed like Reverse Osmosis (RO) and Membrane Bio-Reactor (MBR). The recycled material is then used for industrial and irrigation purpose, states Ford India.
Price (Ex-Delhi)
Starts Rs 74.62 Lakhs