Ford Mustang Mach-E sets economy performance Guinness World Record travelling over 10.5km per kWh
The Ford Mustang Mach-E, the American manufacturer's first long-range battery electric vehicle, has driven into the Guinness World Record books by setting the lowest energy consumption record for an electric car. Independently verified, the Ford Mustang Mach-E rear-wheel drive extended range model achieved a figure of over 10.5km per kWh of electrical energy, equating to a driving range well over 800km from its 88kWh battery pack, accounting for the net or usable capacity which is usually lower than the gross capacity advertised to protect the battery from fully discharging, or overcharging. The official driving range of the Ford Mustang Mach-E is advertised as 609km (per WLTP certification), and with this record, the Mustang Mach-E triples the official miles per kWh target set by Guinness World Records. 
The Ford Mustang Mach-E set its record on what's considered Britain's longest road journey, from John O'Groats to Land's End, a distance of 840 miles (1,351km) with a maximum of 45 minutes of charging allowed to achieve the record. The car was charged twice on two separate charging stops, and using the maximum 150Kw charging speed accepted by the Mustang Mach-E net the record drivers an additional 118km of driving range in just 10 minutes.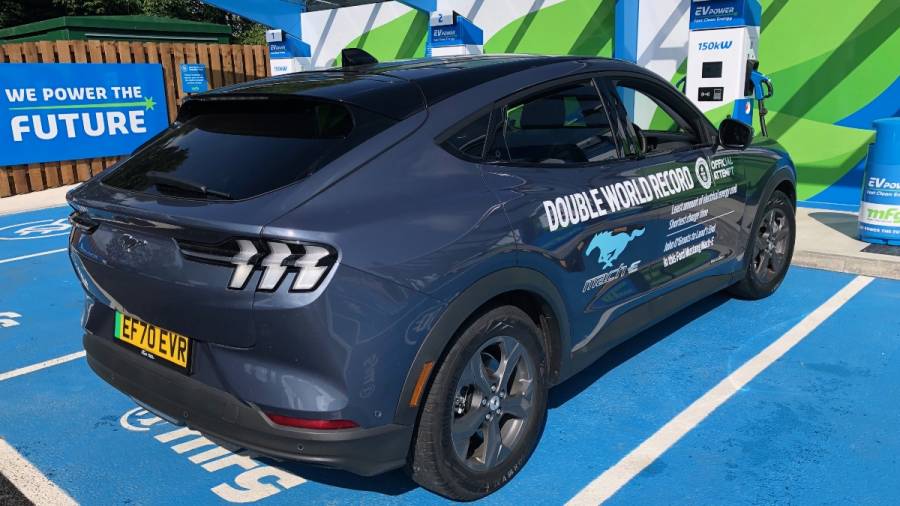 Ford UK's electrification manager Tim Nicklin said, "The Mustang Mach-E's efficiency minimised charging along Britain's longest route and proved itself as a game changer. Ford's own Go Electric report* on consumer perceptions reveals that the average range which the public thinks a fully charged electric car can travel is under 150 miles (240km). If the Mach-E can achieve well over three times that distance in the hands of professionals, it can easily deliver its official 'miles per tank' to owners - and dispense with any previous range anxiety."
Also read, 
Ford unveils Mustang Mach-E electric crossover 
Electric dreams: Ford Mustang Mach-E
Price (Ex-Delhi)
Starts Rs 74.62 Lakhs