Ford GT production extended till 2019
When a new Ford GT was introduced at the 2015 North American International Auto Show, sportscar enthusiasts as well as celebrities rushed to the Ford website to book one. As Ford planned to build only 250 units of the GT per year till 2017, thousand mourned on the missed opportunity.
Good news for them.
Ford Performance has announced that it is adding two more years of production for the all-new Ford GT supercar. Those who already registered to buy the GT will have to update their request when the next application window reopens in early 2018.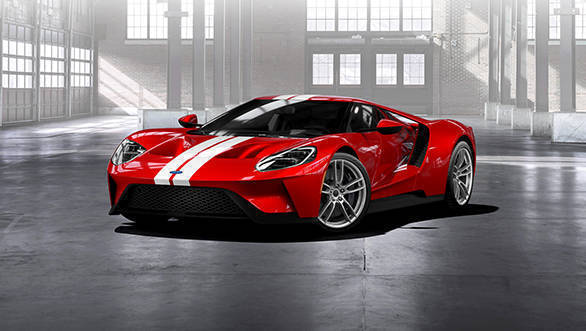 "While we can't build enough Ford GTs for everyone who has applied, we are going to produce additional vehicles in an effort to satisfy more of our most loyal Ford ambassadors," says Dave Pericak, global director, Ford Performance. "We want to keep Ford GT exclusive, but at the same time we know how vital this customer is to our brand."
The third year of production (2018) will give first preference to the applicants who were already on the waiting list. The ones who missed the initial application window will be served by production year four (2019). The application process for fourth-year production will reopen in early 2018.
The GT will exhibit, as the company claims, one of the best power-to-weight ratios of any production car, thanks to its lightweight carbon-fibre body. It will be powered by a newly designed 3.5-litre twin-turbocharged EcoBoost V6 engine, making over 608PS. The car also has racing inspired pushrod suspension, active aerodynamics and dihedral doors.
Ford GT, which is set to be released later this year, marks 50 years since the GT40 won the 1966 24 Hours of Le Mans.
"Ford GT has racing in its blood," says Raj Nair, Ford executive vice president, product development, and chief technical officer. "The road car and race car will live on, side-by-side, for the next four years – providing ample opportunity to test and prove innovative new technologies both on and off the track."