Ford Focus is the world's best-selling car, again
Ford Focus is the world's best-selling car for the second year running, according to Polk's 2013 vehicle registration data. The Focus sold 10,97,618 units in 2013 which is an 8.1 per cent increase over the previous year's figure of 10,14,965 cars. Europe accounted for 29 per cent of the total vehicles sold last year with 3,17,110 units and China accounting for one unit out of every three sold globally.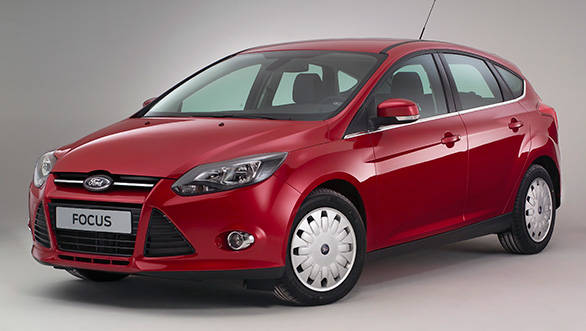 Ford Focus with 1.0-litre Ecoboost engine
Ford can produce 1.5 million Focus models annually from its eight manufacturing facilities spread across eight continents including United States, Germany, Vietnam, Russia, China, Taiwan, Argentina and Thailand at a stupefying rate of more than two cars produced every one seconds.
Jim Farley, executive vice president of Ford Motor Company global marketing, sales and service said, "With the new car, we've raised the bar again, showcasing Ford's commitment to continuous improvement – adding better technology for drivers and a sleeker, more modern exterior across the entire Focus family."
Ford Focus was introduced in 1998 and since then has sold more than 12 million vehicles and collected several awards along the way.
FORD FOCUS REMAINS WORLD'S BEST-SELLING VEHICLE NAMEPLATE IN 2013
Ford Focus ranks as the best-selling vehicle nameplate in the world, based on Polk new vehicle registration data for the 2013 calendar year Focus global sales gain momentum with Europe accounting for 29 per cent of registrations and China responsible for more than one in three deliveries New 2015 Focus set to drive sales momentum BRENTWOOD, Essex, UK, April 9, 2014 – Ford Focus retains its title as world's best-selling vehicle nameplate for 2013, according to Ford analysis of the full-year Polk new vehicle registration data from IHS Automotive. Registrations of the Focus were up 8.1 per cent with 1,097,618 cars sold worldwide in 2013 compared with 1,014,965 in 2012, including 317,110 in Europe last year – 29 per cent of total registrations. China now represents more than one in every three Focus sales globally, based on Polk data. "It is remarkable to see Focus again lead the industry as the number one-selling vehicle nameplate on the planet," said Jim Farley, Ford executive vice president, Ford Motor Company Global Marketing, Sales and Service. "With the new car, we've raised the bar again, showcasing Ford's commitment to continuous improvement – adding better technology for drivers and a sleeker, more modern exterior across the entire Focus family." The new Focus delivers a more sophisticated look, featuring a restyled bonnet, grille and headlamps, new rear light clusters and a restyled boot lid. Inside, colours and materials have a clean, modern look, with satin chrome detailing, new seat trims and switches. New Focus has a package of sensor-based, driver-assist technologies bringing a new level of convenience for Focus customers, including Cross Traffic Alert, which warns drivers of vehicles approaching when reversing out of a parking space; Perpendicular Parking, a new hands-free parking technology that builds on the Active Park Assist system introduced with the current Focus and helps drivers reverse into spaces alongside other cars in addition to parallel spaces; and Park-Out Assist, which helps drivers avoid obstacles as they exit a parallel parking space Ford has also improved its Active City Stop collision avoidance system to operate at speeds of up to 50km/h, compared with 30km/h with the current version. New Focus will be equipped for the first time with Ford's MyKey technology. MyKey enables owners to restrict top speed and reduce the maximum volume of the audio system, or disable it altogether if driver and passengers are not using safety belts. In addition to a host of styling and technology advances, the new Focus will continue to offer the remarkably efficient, fun-to-drive 1.0-litre EcoBoost engine – International Engine of the Year, for 2012 and 2013 – with a six-speed transmission, surpassing the fuel efficiency of the previous model. "New Focus offers a host of new and cutting-edge features and technologies, but at the same time this latest version has been refined and simplified," said Sherif Marakby, vehicle line director, Ford of Europe. "The sophisticated redesign has given Focus a new, fresh and modern style both inside and out, but the soul of Focus is the fun-to-drive feeling you get when you're behind the wheel, and we've not compromised on that – in fact, we've improved it." Ford builds the Focus in eight manufacturing plants on four continents. Facilities in Germany, the United States, Russia, China, Vietnam, Thailand, Taiwan and Argentina have a combined capacity to build more than 1.5 million Focus cars annually at a rate of more than two per second. Since the launch of Focus in 1998, the best-selling vehicle nameplate in the world for two years running has sold more than 12 million vehicles globally. Polk data also confirm Ford Fiesta earned the top spot as the best-selling subcompact car globally, with 735,299 registrations for 2013. Together, registrations of Ford's small cars – Fiesta and Focus – totalled 1,832,917 last year, which is a 4.3 per cent increase from 2012. # # #