Ford EcoSport facelift spied without the rear-mounted spare tyre
The door-mounted spare wheel, that gives away the EcoSport's  identity to even common observers, might be given a miss in its first facelift. If the spied images captured by Autoevolution are anything to go by, the said observers will have to rely on other telling features to confirm if they are at all following the popular crossover from Ford.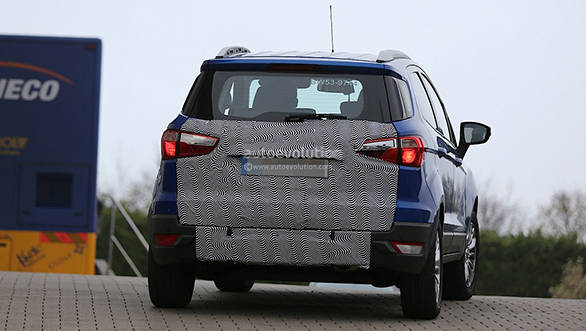 The move from Ford is bound to get a mixed reaction. The removal of the bulky weight from the door definitely has the back of the vehicle looking less busy and reduces the length to aid squeezing into cramped parking spaces. In turn, the spare tyre will have to be squeezed into the 346 litres of the boot which means storage will suffer. This can be compensated by the 60:40 split rear seats that currently open up room to a very decent 705 litres. And, if needed, there's always those box mounts on the roof rails.
Apart from the storage issues, this might even cost Ford a few potential buyers – the uncovered tyre at the back lent a rugged look to an otherwise prim looking vehicle. The cleverly built door handle that was integrated into the right taillamp was the other fetching design feature. We hope that the removal of the wheel might allow for other improvements – perhaps a larger rear window for better visibility and a wide viewing angle for a reverse camera.
Do you think this makes for a neater looking EcoSport? Let us know in the comments below.
Source: Autoevolution
More from OVERDRIVE on the Ford EcoSport:
2013 Ford EcoSport EcoBoost in India first drive
.
Price (Ex-Delhi)
Starts Rs 7.99 Lakhs