Force Motors announces joint venture with Rolls-Royce Power Systems under Force MTU Power Systems banner
Force Motors Ltd has today announced that it is entering into a joint venture (JV) with Rolls-Royce Power Systems. The JV, under the banner or Force MTU Power Systems, will set up a facility in Chakan outside Pune, where they will build the MTU Series 1600 engines. The facility will come up with an initial investment of Rs 300 crore. Force Motors has 51 per cent majority stake in the JV, while Rolls-Royce has 49 per cent. These turbocharged Series 1600 diesel engines are available in 10 and 12-cylinder configurations, with common rail injection, and electronic control. They are used for power generation and rail underfloor applications. This engine is capable of an output from 552PS to 1,065PS. The announcement was made jointly by Force Motors MD Prasan Firodia and Rolls-Royce Power Systems president and CEO Andreas Schell.
Rolls-Royce Power Systems president and CEO Andreas Schell, and Force Motors MD Prasan Firodia unveil the MTU Series 1600 engine while announcing the joint venture
In addition, Force MTU Power Systems will also build Series 1600 generator sets based on the same engine. During the announcement, Schell stated that once operational, this 30,000 sq m facility will be the only location where the Series 1600 engine is built. The engine which has so far been in production since 2009, had been built in Germany. Work on the Force MTU Chakan facility will begin next month, with the companies aiming to roll out the first engine from here in the third quarter of 2019. The plant which can produce about 2,000 of the engines per year, will also create employment for 200 workers.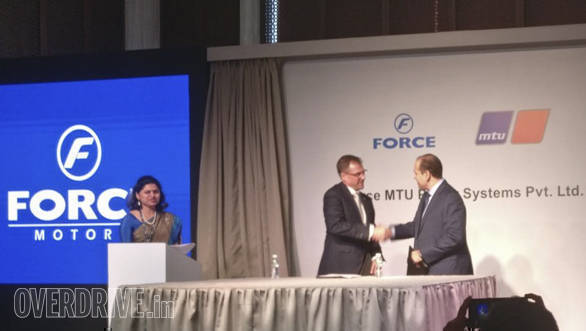 Interestingly, Force MTU will try and relocate as much of the current facility in Germany including the tooling and other equipment to the new facility. Asked about the future of diesel engines, given the global calls for electrification, Schell said that diesel engines will continue to be used in off-highway applications for years if not decades before they are phased out. Adding to this, Firodia said while calls have been made for electrification, there is no clarity even among passenger vehicle market as to what timeline to follow for the same.
Force Motors also has similar individual engine assembly facilities for the entire range of Mercedes-Benz and BMW cars, respectively, that are sold in India.