Follow the build progress of the world's most expensive "new" Honda Civic
The Honda Civic Type-R (fifth-gen FK8) is currently the most expensive Civic on sale, retailing for just under $40,000 (about Rs 31 lakh). It was the fastest front-wheel drive car around the Nurburgring, until Renault's new Megane RS Trophy R came along, a car that cost nearly double in its record-setting version. But soon the title of the world's most expensive Honda Civic will go to one that's nearly 30 years old.
Spoon, the Honda racing/tuning shop named after a corner at Suzuka, is building the ultimate street Civic, using a stock Civic EG6 SiR hatchback from the early 90s as a base. Spoon founder Tatsuru Ichishima estimates a fully-specced version, like this first car being built, will cost up to $150,000 (Rs 1.1 crore). A ground up restoration which brings together the best craftsmen, even outside of Spoon, it has led to a new project, named Built By Legends. Headed by Ichishima itself, it will build Hondas with Spoon, and Nissan GT-Rs with Mine's. With engineers and inputs from Nengun, Opera Performance, famed Garage Yoshida, KW Suspension and others, Built By Legends aims to offer the ultimate Japanese restomods, in a similar vein to what companies like Singer, or Mechatronik achieve with German cars.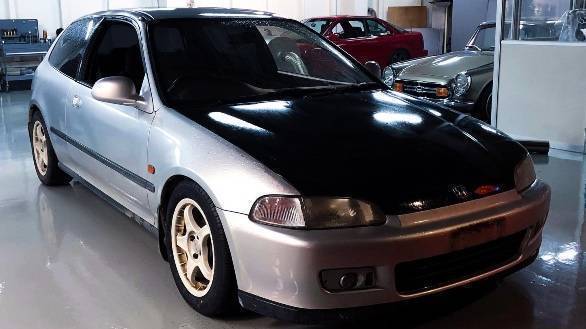 Being built for the street, and with an emphasis on balance and reliability, the BBL Civic doesn't gun for outright power, instead the goal being a light, fun car that's better than the original in every way. The 1.6-litre motor from the base car is swapped out for a brand new Spoon-built B18C, a 1.8-litre B18C that would normally find home in an Integra Type-R, mated to a titanium exhaust system modelled on the firm's JTCC-winning design.
The motor is tuned to make about 200PS but Spoon's legendary blueprinting process should make for an engine that can deliver that peak power for hours of canyon carving, with zero issues. Apart from suspension developed specifically for the car from KW Suspension, the shock towers have been rebuilt in carbon fibre. This, and the carbon-fibre floor/firewall should help up the rigidity of the car, with no plans for a roll-cage to be incorporated – being that it is a street car, and that it would add unnecessary weight.
View this post on Instagram

A video profile of the build by Larry Chen, professional photographer, is on YouTube and should satiate your desire to see more of this one-of-a-kind Spoon build. Progress on the car has been slow since the coronavirus outbreak, but with Japan still not having declared a complete lockdown, stay tuned to Built By Legends on social media for further updates and to see the final masterpiece in action.

Price (Ex-Delhi)

Starts Rs 17.94 Lakhs

Price (Ex-Delhi)

Starts Rs 2.12 Crore