First look: Honda Mobilio MPV
We were shown a near-ready prototype of the Honda Mobilio MPV based off the Brio platform at Twin Ring Motegi, but unfortunately driving the car was not possible.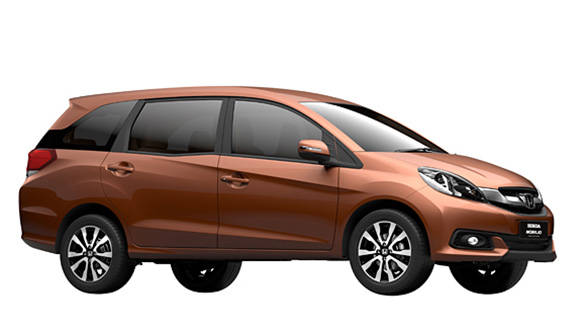 Honda Mobilio Concept
However, we did get to sit in the car and look at it up close. Here is what we noticed. The new Mobilio looks sharp and the extended Brio platform gives it good space inside. With the front row adjusted normally the second row had a good amount of space. The impression of space was helped immensely by the all-beige interiors. However the interiors themselves were said to be prototype and not final so we have no pictures.
On the exterior on the bottom rim of the rear glass is a nice touch and it does give the side a bit of snazz. The front looks neat and thought it reminds you of the Brio, it looks proportionate and correct for the size of the car. While the Mobilio used a definition line that starts from the front wheel arch like many of the latest Hondas, the line fades just after the B pillar and a second line starts just ahead of the rear door handles before wrapping around the back and giving the Odyssey-ish tail lamps a tidy outline of sorts.
The Honda Mobilio is an MPV based on the successful Brio platform which has also spawned off the Amaze compact sedan. The Mobilio is powered by the 4-cylinder 1.5-litre i-VTEC petrol unit that makes 118PS and in India also powers the City sedan. It is very likely that in interest of pricing the MPV very competitively, Honda may just plonk in the Brio's 1.2-litre petrol engine. The Indian market could also see the 1.5-litre i-DTEC oil-burner that is good for 102PS and 200Nm of torque. It will get three variants, namely S, E and E-CVT. Transmissions could be a 5-speed manual and like the name indicates, a CVT. The Mobilio measures 4.4metres in length, which clearly puts it out of the under 4-metre MPV and has a ground clearance of 185mm.
Overall while we unfortunately couldn't drive the car the size, shape and interior space hold great promise. We can't wait for the diesel version to arrive and set the cat among the Indian MPV pigeons. Honda will showcase the Mobilio MPV at the upcoming Auto Expo 2014 and thereafter announce the prices and availability.