First European podium for Shahan Ali Mohsin
Shahan Ali Mohsin, reigning Asia Max Karting Champion in the Micro Max category, and twice Indian National Karting champion, also in the Micro Max category, scored his first European podium at the Rotax Max Central European Championship round at Speedworld in Austria. Shahan took second place overall in the Super Final race.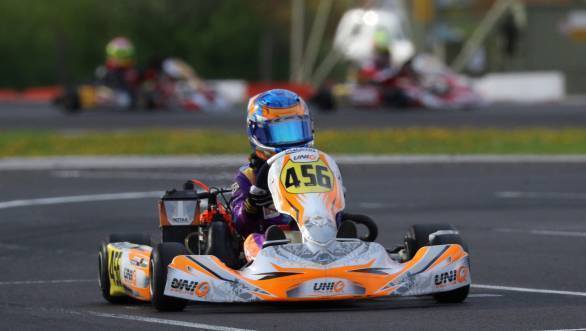 Shahan Ali Mohsin claimed second place in the Final and Super Final races at of the Rotax Max Central European Championship at Speedworld in Austria
The young Indian karter, competing in the Mini Max category of the championship demonstrated his speed early on in the weekend, doing well in the practice sessions. Shahan, who is supported byPark Exports, AFMEC, Sakura Air conditioners and Nealson Shoes, was driving for the Uniq Racing Team, the same team with whom he had contested the Rotax Euro Finale in 2016. The grid comprised 20 drivers from Austria, Hungary, Poland, Serbia and Japan. Shahan was the sole Indian driver on the grid.
Shahan on the podium at Speedworld, Austria
Shahan took pole position during qualifying, and followed that up with third place in the pre-final. In the final, he finished second, having battled with Bence Valint and Jerzy Spinkiewicz. This left the Super Finals, which was the last race of the weekend. Shahan kept his cool all through the race, and managed to finish second once again.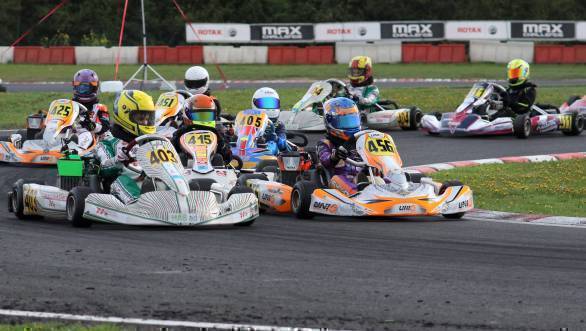 Shahan battles it out in his fight to second place
"This is a trophy I am going to cherish for a long time. We haven't had the luck on our side in Europe so far but this weekend everything just went to plan," he said of his podium. "We had a good set-up, we were able to stick to our programme and improve all the time. The race was relatively incident-free even though there were a few close calls given the stiff competition", he continued.