Fiat-Tata Pune plant rolls out 3,00,000th unit
Fiat India Automobiles Ltd (FIAL) has rolled out its 3,00,000th unit at its Ranjangaon plant in Pune. The vehicle that marked the milestone was the 2014 Fiat Linea.
Fiat-Tata joint venture plant, as in it manufacturers products for both companies, also produces petrol and diesel engines which are also supplied to Maruti Suzuki. Last year, the plant had achieved a milestone in this regard with production of its 5,00,000th engine.
2014 Fiat Linea at the Auto Expo
Both FIAL and Tata Motors have stated that the Pune facility will continue to  manufacture world class products and will also play an important role in the development of future models that both the partners intend to roll out.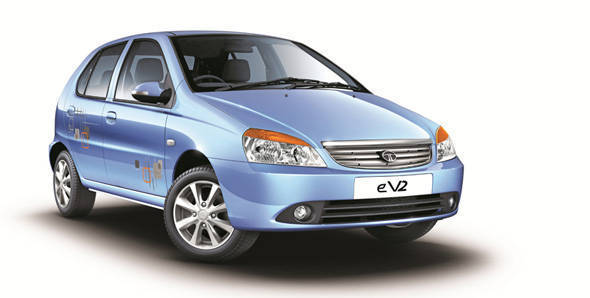 While the two companies split their sales operations in 2012, the Ranjangaon plant has allowed the two firms to combine synergies therefore enabling them to properly exploit the tremendous potential that the Indian market has to offer. The Pune plant is spread on a 200 acre parcel of land and employs around 4000 trained personnel who have played a major role in the achievement of this milestone.
The FIAL plant can produce 1,60,000 cars and 3,50,000 engines annually. It manufactures the Fiat Linea and Grande Punto and produces a wide range of Tata cars which include Manza, Indica Vista and Indica V2 models.
Fiat India Automobiles rolls out 3 lakh passenger cars from Ranjangaon plant
Mumbai, 10th April, 2014: Fiat India Automobiles Ltd (FIAL) has rolled out the 300,000th car and from its state-of-the-art Ranjangaon plant in Pune. FIAL is a joint venture between Fiat S.p.A and Tata Motors. FIAL also produces and supplies world class petrol and diesel engines to leading automobile companies in India like Maruti Suzuki and TATA Motors. Fiat India Automobiles Ranjangaon facility applies world class manufacturing practices to ensure superlative quality of its passenger cars and Powertrains. The facility supports both the partners, Fiat and Tata Motors. The company achieved the landmark of producing 500,000th engine from its facility last year. Spokespeople of both partners share that the Ranjangaon facility will continue to produce world class products that demonstrate engineering ingenuity keeping the current market needs in mind. The manufacturing facility has enabled us to leverage synergetic benefits and will further aid us in tapping the potential that the growing Indian market has to offer. The facility will also be utilized for manufacturing of some of the new products that will be launched in future by both the partners. The Fiat India Automobiles manufacturing facility is spread over 200 acres and is located at Ranjangaon near Pune. Over 4000 highly trained personnel are directly or indirectly employed by the plant and they have contributed immensely to achieve this landmark feat. About Fiat India Automobiles Limited Fiat India Automobiles Limited (FIAL) is a 50-50 Industrial Joint Venture between Fiat Group Automobiles S. p. A., (Fiat) and Tata Motors Limited (Tata) originally incorporated on January 02, 1997. The company, which is located at Ranjangaon in Pune District of Maharashtra, employs about 2500 people and provides indirect employment to another 1500 people. The definitive agreement of the Joint Venture was signed in October 11, 2007. The Board of Directors for this company comprises of five nominees each from Fiat and Tata. The state-of-the-art facility at Ranjangaon, which is owned by FIAL, a joint venture company, is capable of producing 160,000 cars and 350,000 engines annually besides 300,000 parts & accessories. FIAL currently manufactures Linea, Grande Punto, Tata Manza, Indica Vista and Indica V2. The facility also manufactures Fiat's successful 1.3 litre Multijet diesel engine and 1.2 & 1.4 litre Fire gasoline engine. The investment in this Ranjangaon facility already exceeds Rs.4,000 crores.
Price (Ex-Delhi)
Starts Rs 7.06 Lakhs