Fiat 500 Gucci edition drives into the US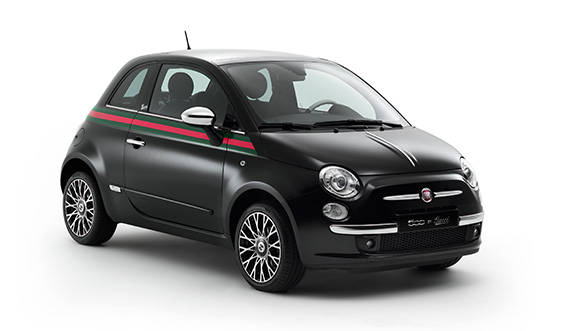 2013 Fiat 500 Gucci edition
Chrysler Group has announced that the popular Gucci Edition of its Fiat 500 will be back in the U.S this month. The J-Lo endorsed Fiat 500 Gucci Edition is back from the dead to meet continuing "popularity and market demand".
"It doesn't get better than this: two brands like Gucci and Fiat collaborating on an encore of the fastest-selling Fiat 500 that we ever had in our U.S. portfolio," said Jason Stoicevich, head of Fiat in North America. "The success of the Fiat 500 by Gucci demonstrates that there is a clientele in America that appreciates and demands high-quality small cars loaded with the craftsmanship, technology and the style that only the Italians can offer. Almost all of the vehicles of this new edition have been spoken for by our studios, and they can't wait to start selling them again."
Modestly revised, the 2013 Gucci Edition features a Nero (Black) or Bianco (White) exterior with chrome accents, red/green stripes and unique 15-inch aluminium wheels.
Inside, there's a new Nero interior which can be ordered in place of the traditional Bianco/Nero or Nero/Bianco color scheme. Other highlights include Poltrona Frau Leather seats and bright or satin chrome trim.
The Fiat 500 Gucci Edition is priced at $23,750 for the coupe and $27,750 for the convertible.