Ferrari celebrates 70 years anniversary in Mumbai
Ferrari is a brand that evokes emotions and feelings. It has catered to the connoisseurs of performance and styling for many decades. Be it screaming to glory on race tracks or being the bedroom wallpaper for the ones who aspire for it, Ferrari is one of the most distinct symbols of the automobile world. The Italian brand has come a long way since its early days, 70 years to be precise. And to celebrate that, Ferrari is doing a series of events around the world.
Back in March 12, 1947, Enzo Ferrari drove the 125 S outside the small Maranello factory. The Ferrari 125 S was the first car to bear the prancing horse logo and was powered by a 1.5L V12 unit. This factory then transformed into the hub that created many iconic supercars of yesteryears as well as present day. In addition to events, Ferrari also made the LaFerrari Aperta, a model that represents the company's anniversary. In this year, over 60 countries hosted a series of events wherein prospective customers and even enthusiasts were given a chance to experience the Ferrari culture designed under the Driven by Emotion theme.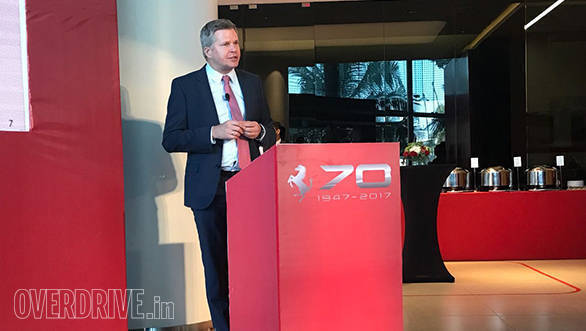 Dieter Knechtel, CEO, Far East and Middle East, Ferrari
Navnit Motors, the official dealer of Ferrari in Mumbai has also planned a two-night drive where a fleet of Ferraris will roar their way across different points in the city. The event will start on December 16 evening at St. Regis. The following day, the Ferrari parade will flag-off from the showroom and will culminate at the Festival Square, High Street Phoenix Courtyard.
Related Stories