Fernando Alonso set for LMP1 test with Toyota in Bahrain
Fernando Alonso declared last year that one of his major motorsport goals was to win the triple crown of motorsport - which includes victory at the Monaco Grand Prix, the Indy 500 and the 24 Hours of Le Mans.
Alonso has already won the first, and attempted the second. He is now getting set to have a go at the third, is what it seems like. Various websites have begun reporting the fact that the Spaniard, who has two F1 world championship titles under his belt, will soon test a Toyota LMP1 machine at the FIA WEC rookie test at Bahrain next Sunday.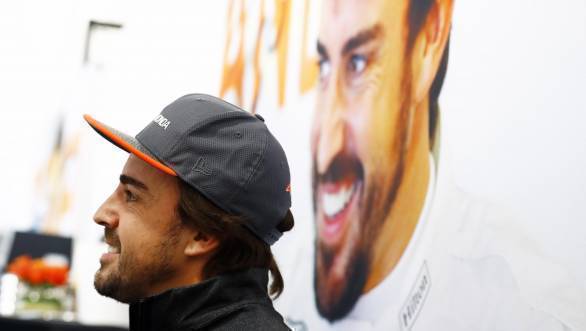 Fernando Alonso is all set for an LMP1 test with Toyota
It has been reported that Alonso will be a part of Toyota's drive line up during the test session that will follow the 6 Hours of Bahrain. It will be his first public outing in a sportscar. It has been reported that Alonso will share time in the Toyota TS050 Hybrid LMP1 car in Bahrain with LMP2 driver Thomas Laurent and Toyota racer Mike Conway.
Alonso will make his debut in sport car racing at the Rolex 24 at Daytona, and will drive for the United Autosports team at the event in January 2018. This is meant to be a precursor to a possible outing at the 24 Hours of Le Mans in June.
While Toyota hasn't yet confirmed its commitment to the upcoming World Endurance Championship super season (that includes two 24 Hours of Le Mans races) they are expected to continue in the series. This will mean that they will be the only manufacturer in the upcoming season of the WEC.