Yay turn!
If Petter Solberg met a spade, he'd politely call it a shovel.
This, I conclude after our conversation at Hockenheim, is his most endearing quality. It makes talking to him easy. It makes interviewing him easier still. Because Petter, quite simply, calls it like he sees it.
Take this gem for instance. "There's a lot of assholes around who try to cheat you, basically. And a lot of bullshit. But that's the same in every sport. I like straightforward people. Yeah. No bullshit."
It's important, though, to remember that whatever Petter says, he says with a broad smile plastered across his face in that lilting Norwegian accent of his, which makes you realise that there's not one bitter bone in his body. In fact, the general atmosphere in team Petter Solberg RX is one of tremendous enthusiasm. Even though things haven't really gone according to plan for them thus far at the second round of the 2016 World Rallycross Championship at Hockenheim, there's an air of cheer in the garage. The mechanics are working away on the car, stopping once in awhile to have a quick chat with one another. There's a crowd that's slowly gathering outside, hoping to catch a glimpse of the 2003 World Rally Champion, now also double FIA World Rallycross Champion. And there's Ace of Base's All That She Wants blaring loudly over the speakers. "Music is my life," I hear one mechanic shout to another as he picks up a tool and goes back to working on the car. The truth, though, is that for the men and women, all of whom have been handpicked by Solberg to be part of this team, there's another thing that's probably more important - winning.
"You should never start something if you can never win it," Solberg says to me with a big smile on his face. And it's obvious that this camp that I am sitting in has been completely designed towards, and is very used to, exactly that. "The winner gets champagne and we love champagne," he continues with a glint in his eyes. But the revelry post a win (which can sometimes get so wild that he simply refuses to give me details of the craziest thing he's done to celebrate a win) is limited to one night. "Everybody goes back to work the next day… But with headaches," he laughs. "What happens good, it is history. It's what the future brings that's the main thing. Done is done. And you just have to go forward."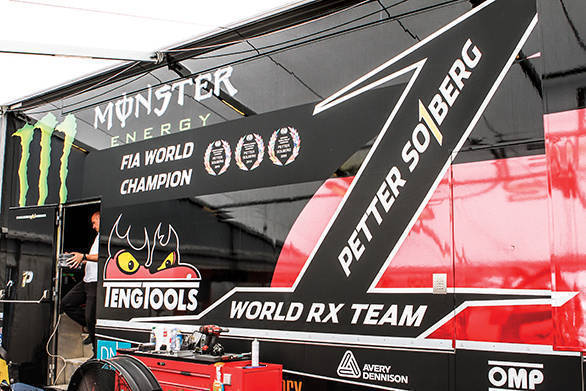 The number 1 on the side of the truck says it all. And it's to keep this number within the team that the mechanics and Solberg work so very hard, not just at the race weekends, but every single day
It's very likely that it's this spirit that got Petter Solberg through some very tough times in his career. Times that came soon after winning his WRC title for Subaru in 2003. Years where the title slipped from his grasp. And years when the number of wins dwindled, eventually to a complete stop. But he persisted, despite the fact that he said that his voice wasn't heard and the improvements that he was hoping for on the car weren't made. Solberg chose a path that involved continually looking ahead and focussing on what needed to be done. In fact, his commitment to winning and fixing the issue at hand was so strong that he even offered the team his salary to invest back into the car in the hopes of taking a step in the right direction. And it's this knowledge that he did absolutely everything that he could do that helps him stay regret free about those many years spent at Subaru. Although he does admit that passing up an offer to drive for Citroen was, in retrospect, something of a mistake. But like he says, "The decision is taken, so you can't regret anything."
The hard lessons from the Subaru years, along with some lessons he learned when he became a privateer in the WRC, really have shaped the the way team PSRX works today. The first important lesson is that you need to react immediately to situations. Exactly like when you're in a rallycross car, then? "The same thing," he says. "See, if you have a problem and you don't have the speed, you have to do something very quickly. Not have 20 meetings and then something going on and it takes too long. Today if I have a problem and I don't have the speed, we do something straight away."
The team is hoping to add one more wreath to the three already on the car
The second is that he's learned that team spirit is one of the most important components of success, as is a democratic approach to running a team. "They have the passion, the smile, the enjoyment. Everybody is equal here. There's no hierarchy," he says. In fact, the team doesn't take a single decision without a collective consensus from everybody. "They know what to do, so. And it's respect both ways. And when you have good people like that you don't have to shout, or scream, or be hard. I know they working the best they can. And that's enough," he says pointing at the crew that's tinkering away at the car.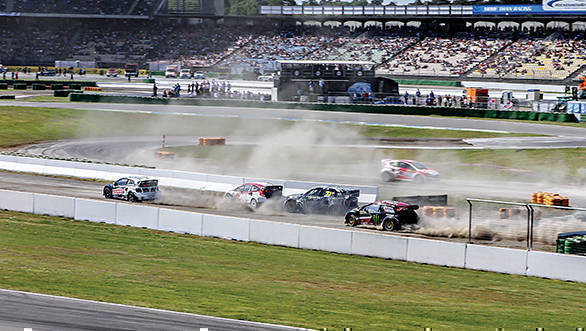 Chaos in the semi finals at Hockenheim, with Solberg chasing after the pack ahead, to make it to the final
But how did Solberg come up with this system of working? This philosophy of "Just keep it simple. Have fun. Good food. A lot of humour and a lot of laughs." Maybe it goes back to simpler times. To his motorsport origins on a farm in Norway, where he and his brother Henning helped prepare rallycross cars for their parents. Back then Solberg first honed his skills on Beetles. "I'm born with a Beetle basically. So yeah, I'm a specialist on Beetle," he nods at me. "We built a lot of Beetles when we were young, for our parents when they drove." Which means between the ages 10 and 18, young Petter was working on cars, learning all that he needed to learn in terms of the technical side of his sport. Then he took to driving, first rallycross and then rallying, pushing himself to do better because he realised how much fun it was. When a contract materialised, it changed from plain fun into a proper career. "1998 when Ford took me into the factory team - that's it! Everything else before that just driving and having fun and flat out. I didn't have a plan...nothing."
But Solberg's come a very long way from the days when he didn't have a plan. When Subaru pulled out of rallying, he began working on his comeback as a privateer the very next day, putting together a team of the best people he knew in the business. In 2013, after he decided that he'd certainly compete in the WRX championship the following year, there was plenty more planning and rather a lot of hard work. The first step was to come up with a car of unquestionable performance. The second step was to sort out any reliability issues they might have. Which means by the time the arrived at Portugal for the first round of the 2014 championship, Solberg knew that they had what it took to win.
"How?" I ask.
He points to his chest with one hand and says, "Feeling." He pauses for a while and then says it again, "Feeling." He continues, "You know inside, you know…" he trails off.
"But what if someone else sitting in this very paddock has the same 'feeling'?" I persist.
At this Petter Solberg breaks out into a roaring laugh. "But they don't have it. They don't have it. I know they don't have it," he says.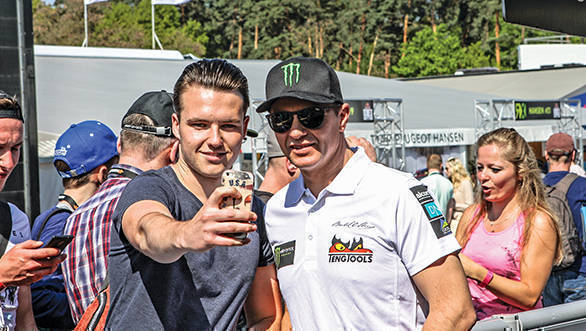 Before the event, he's happy to take photos with fans and sign autographs too
Well, this feeling, this intuition, this gut instinct that Solberg seems to rely on so strongly worked. He won the first event at Portugal, took the title in 2014 and came back and successfully defended it in 2015. Although the pressure had increased, because the grid had gotten smarter and tougher all at once. Defending the title in 2015, and again this year, he says, takes a whole lot more work, what with the likes of Mattias Ekstrom and Sebastien Loeb to contend with. "But I am not afraid of working," he smiles. The constant activity around me in the garage (even the chef appears to have come out of the kitchen for a while to have a chat with the mechanics) indicates that the people around him aren't afraid of a little hard work either.
According to Solberg, though, in some ways the sheer amount of preparation that goes into a WRX event, especially the mental preparation, is far higher than in the World Rally Championship. "Because there, in rallying, you drive alone. You can control a little bit with the pace. You can just push whenever you want. If you want to settle for second place, you settle for second place. Here, rallycross, you have to be on all the time." He even goes so far as to say that rallycross is more exhausting. "You're more tired after a rallycross weekend. Mentally, with everything that happens very quickly compared to rallying. A 60km stage in rally is no problem! Here in short time it's very hard."
I get some sense of this pressure that Solberg must feel when I am sitting in the grandstands watching the semi finals at Hockenheim. It's absolute chaos, with cars flying about, cars bumping into each other, cars spinning and tyres exploding. It seems like the drivers really don't get the time to even blink. Well, at least they shouldn't what with all the mayhem that abounds over those six laps. Solberg, however, is grateful for this pressure. "You always feel pressure. You have to. If not, you don't respect the sport," he says.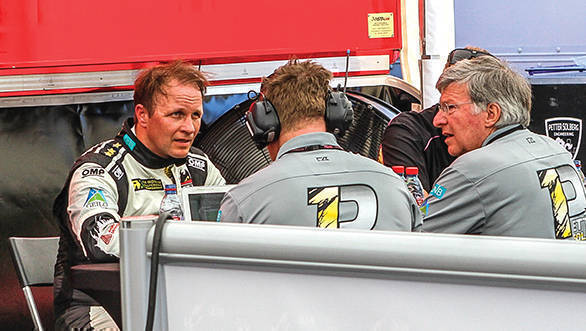 After a fourth place in the final though, it's an immediate debrief to ensure mistakes aren't repeated
But just before the cars take off when the red lights go out, Solberg tells me that he is "Just focussed." Especially on every possible outcome of the first lap. "You know all the scenarios you can have in the first corner. So you can react. The more things you have planned beforehand about what can happen in each situation, it's easy to do the situation when it comes up, you know."
With good reason too. After all there was that one incident where a fellow competitor went up to Solberg before the race and said that he'd stick behind him at the start, because Solberg's car was so much quicker. And then at the first corner, he decided not to stick behind him and instead took Solberg right out. Petter still seems incredulous when he speaks of how he was pushed out "By another Norwegian. I just… Everybody gets normally very pissed off. But I just feel very sorry for him, because we could have been two Norwegians in the final in Norway and now it was nothing. He didn't get so popular by doing it!"
No, Andreas Bakkerud probably didn't get very popular. After all, let's not forget just how much of an icon Solberg is in his home country. This is a country that stopped the biggest football match of the year, had the players take a break, and broadcast the very last stages of the 2003 Wales Rally GB just so they could watch Solberg bring home the title. With the king and queen looking on, no less! It was an emotional time for Solberg, a feeling he describes as "sick", of course in a good way.
There've been plenty of emotional times since then. Times that we have managed to witness because Petter Solberg wears his heart on his sleeve. Whether these have been happy times post a race win - he gets a little excited and jumps up and down on the roof of his car till he bashes it in. Or sad times - still more bashing in and yelling and screaming because "Bullshit, unfair things," make Solberg get, in his own words, "pissed off." He quickly adds though, "But I turn around and I get happy very quickly. Very happy after five minutes."
And one of the things that made Solberg happy recently was the fact that the wounded pride of the factory-backed Peugeot team wouldn't let them congratulate him after his win at the first round of the 2016 season. "It's a matter or prestige," he chuckles. "Things like that I like!" he laughs, adding that it gives him an added hunger, as a privateer, to win.
In fact, it quite seems like Petter Solberg is one of those people who has come to the conclusion that happiness is the essence of life. He's happy to be happy. And he's happy to be positive. To the point that he thinks perhaps he's too positive a person. "Even if it's a problem, I think positive. But every situation, like I tell the team, you have to remember that it's always problems. It's how you deal with the problems, that makes the success. You have to come with a solution to the problem, you know. Not talk about the problem. Talk about the solution."
Over the years, Solberg has also learned the fine art of balance - of sacrificing the win now for the title later. Especially in rallycross where he says you need to know when to just drive your fastest, instead of focussing on winning your Heat. "When you have to be world champion, you have to work a little bit with strategy and see the big picture of it. It's easy to say that you just want to win, but you need the structure and the plan," he says.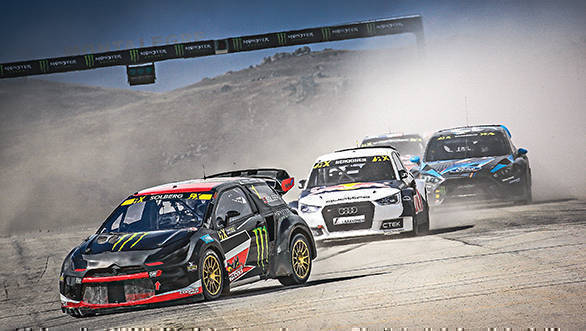 Strategy and the best engineers aside, though, Solberg goes back to that one thing that he really relies on to ensure that he wins. This intangible "feeling" that he declares is "the final computer." Although he does have two other rules that help him survive and win in the world of motorsport. The first - "Don't listen to people until it's done." The second - "Less bullshit. Learn to react when it's not working. Very simple!"
Well, Petter Solberg for President then! Where's the ballot box?