Yamaha FZ-S Fi version 2.0 long term review: After 12 months and 20,083km
I'm not going to be a gentleman about it, I am going to be returning this bike to Yamaha kicking and screaming. Well, in my mind, that is. OVERDRIVE has put 20,000km on the odo and about 18,500 of those have been with me in the saddle. That beats Lijo's record for highest mileage on an OD garage motorcycle. (He managed 17,500km on the racier Yamaha R15).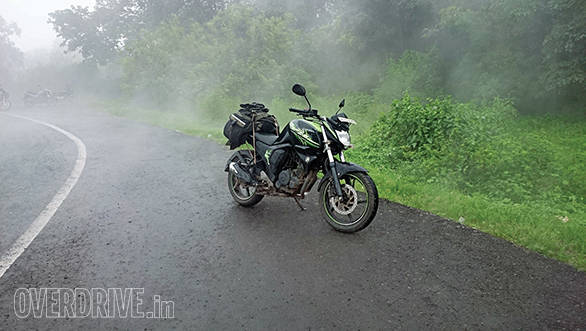 Some of the last kilometres were clocked during the Ganpati festival in Pune. I have been to Pune quite a few times but it was great fun riding in the rain that typically comes with the festival. The FZ-S has always proven that it is capable of handling any type of riding conditions. So it occurred to me that I need to go out for one last ride – a 400km long weekend to Nashik. It was again a beautiful journey – almost no traffic and straight roads plus the beautiful Kasara Ghats under a bright sunny sky.
My Monday morning ride was the perfect way to say goodbye. During that 100km stretch, I must have stopped at least five times to take pictures. These moments made me remember all the good times on the FZ-S – my long daily commutes or when I first took it all the way to Goa with my wife, to celebrate our second Anniversary. We both had such a great time together over those 1,680km. That trip will be treasured and the stories will be recounted to me and my children.
When I buy myself a bike in the future, the choice is clear. The FZ-S has won me over with its easy and ever dependable nature. Who knows, by that time, Yamaha might even decide to finally give it a rear disc brake!
Total mileage: 20,083km, Date acquired: Aug'14 THIS MONTH: mileage 1,983km fuel: 47.21 litres, efficiency: 42kmpl
More stories from OVERDRIVE on the new Yamaha FZ-S version 2.0 in our garage
Yamaha FZ-S version 2.0 introduction
Yamaha FZ-S version 2.0 second long term review
Yamaha FZ-S Fi version 2.0 long term review: After 10 months and 13,270km
Price (Ex-Delhi)
Starts Rs 99,200
Related Stories