Women in motorsport
Women in motorsport. It's a subject that often has people at loggerheads with each other. While some believe that there have never been women of any merit in motorsport, others are of the opinion that the best is yet to come. We disagree with the former and agree with the latter. Although few and far between, there have indeed been women of some repute in various motorsport series across the world. And on International Women's Day, we take a look at the women who have, in their own way, made their mark in various disciplines of motorsport.
Maria Teresa de Filippis
The first woman to race in Formula 1, Maria Teresa de Filippis really is a pioneer when it comes to women in motorsport. Not only did she race at a time when it was quite unheard of for women to go motor racing, she also earned the respect of her fellow competitors by winning in varied racing series. Funnily enough, Maria's career in motorsport really only started out when her brothers made a bet with her that she would be too slow for motor racing. Turns out, accepting the bet was the best thing that ever happened to her, because she won her first ever race in a Fiat 500. Then there really was no looking back, only the occasional glance in her rear view mirror to ensure that a fellow competitor didn't creep up behind her to steal her spot on track. The 1954 season proved to be a turning point in de Filippis' career, when she finished runner up in the Italian sportscar championship. This was enough to get her noticed by the Maserati team, who recognised that she really was one to watch out for. Out came a contract, and a quick signature later, she had been signed on as a works driver for the team. She proved her worth for Maserati with podiums, including second place at the sportscar race run as a support race at the 1956 Naples Grand Prix, behind the wheel of a Maserati 200S.
So, was Maria Teresa de Filippis' transition to Formula 1 successful? Well, not really. When she first got a chance to attempt to qualify for an F1 race, she, well, didn't. At the 1958 Monaco Grand Prix, de Fillipis found herself at the helm of a Maserati 250F. She didn't make the cut, failing to qualify within the requisite time. In fact half the drivers who took part in the qualifying session failed to make the grade, with Formula 1's big boss, Bernie Ecclestone being another prominent name that had to sit out the race. At the 1958 Belgian GP, all competitors were allowed to start the race, irrespective of qualifying times. de Filippis had qualified dead last, 44 seconds off Tony Brooks' pole position time. And she finished the race dead last as well, in 10th place, after nine of the other cars dropped out over the course of the many laps. It would prove to be her only F1 finish. In the subsequent two races in which she competed in the 1958 season, she would retire with car trouble. And after failing to qualify for the Monaco GP in the 1959 season, she turned her back on Formula 1. The death of Porsche racing team leader Jean Behra apparently shook her up so much that she quit motor racing for the next 20 years.
So why did Maria Teresa de Filippis make it to our list of women who made a difference to motorsport? Because she was a pioneer. At a time when women were seen donning sunbonnets and cheering men on from the sidelines, she managed to go motor racing properly. What's not to like about that!
Lella Lombardi
Of the handful of women who actively competed in Formula 1, Lella Lombardi was the most successful. Her stint in Formula 1 wasn't restricted to the odd race here and there. She competed steadily between the 1974 and 1976 seasons, taking part in 17 grands prix, with 12 race starts to her name. Lombardi also is the only woman in the history of the sport to have a points scoring finish. At the 1975 Spanish Grand Prix, Lombardi finished sixth. In ordinary circumstances this would have earned her one point, but since the race was stopped before three-fourth of the usual race distance was completed, only half points were awarded. After a career in Formula 1 where she raced with decent enough results, she transitioned to sportscar racing. Her most successful season was 1979, when she finished first at the 6 Hours of Pergusa and the 6 Hours of Vallelunga. She even competed at the 24 Hours of Le Mans four times, finishing ninth in a Porsche Carrera in the 1976 edition of the race. For her significant achievement in Formula 1 (a woman hasn't since managed to qualify for an F1 race), she deserves a round of of applause. Her results in sportscar racing are also certainly worthy of praise.
Desire Wilson
Desire Wilson is widely acknowledged as the most successful woman in the history of motor racing. It's easy to see why, too. When she won at Brands Hatch in 1980 in the British Formula One Series, she became the only woman in the world to win in any manner of Formula 1 racing ever. Although it was a non-championship F1 race, the fact that Wilson won the race thanks to her skill behind the wheel counts for a lot. There's also the fact that Wilson is the only woman to hold a licence that allowed her to compete in CART Indycar events as well as an FIA Superlicence that allowed her to compete in Formula 1. Victories at the Monza 1000km and at the Silverstone 6 Hours World Championship race also add to her racing laurels. The reason that Wilson didn't have a successful career in the FIA Formula 1 world championship, which many thought she was destined for, was down to a pure bad luck. Inferior machinery during race weekends and freak accidents in other series meant that she didn't achieve her true potential in motorsport. However, what she did achieve was enough to make people view her with a great amount of respect.
Michele Mouton
In our books, Michele Mouton is easily the greatest woman driver in the history of motorsport. What she managed to do was not be one of the 'almost' women. She wasn't an also ran. Instead she was a serious competitor who made the world sit up and take notice. Although Mouton started out her career in motorsport as a co-driver, she soon made her debut as a driver. And her performances proved that the move from merely calling out pacenotes, to shifting gears and flooring it, was the absolute right decision. In 1975, she won the 2.0-litre prototype class of the 24 Hours of Le Mans. In 1977, she finished second in the European Rally Championship. And then she made the switch to the World Rally Championship - finally a woman in the highest echelon of rallying, then! Consistent performances at the WRC meant that Audi was impressed enough with Mouton to sign her on to partner Hannu Mikkola in the 1981 season of rallying. In her first season with Audi, she won Rally Sanremo, once again confirming to the world that she really was a terrific driver. In the 1982 season, Mouton gave Walter Rohrl a run for his money and narrowly lost out on the WRC title. In 1985 she won the Pikes Peak International Hill Climb, setting a new record along the way. She then won the German Rally Championship in 1986, becoming the first woman to win a major rally championship. But when Group B rally cars were put to rest, Mouton hung up her rallying helmet. Of course, she still continues to be actively involved in motorsport, with an active role in the governing of the WRC today. But one of her best contributions is probably that she is one of the cofounders of the Race Of Champions. And we love the Race Of Champions.
Jutta Kleinschmidt
It's impossible to have a list of women in motorsport and not have Jutta Kleinschmidt feature in it. Back in 1988, Kleinschmidt was just another competitor in the Dakar Rally. That particular year she was competing in the event on a motorcycle, something she continued to do till 1994. For the 1994 season, however, she made the switch to cars. It was something that suited her, clearly. A couple of years of driving around in the dunes and she had improved her skill immensely, proving to be a force to reckon with. In fact, she became the first woman to win a stage in the Dakar in 1997. The following year she was the first woman to make it to the podium at the Dakar. And then, in 2001, Jutta Kleinschmidt, navigated by Andreas Schulz, became the first and only woman to win the dreaded Dakar Rally. Respect.
Leena Gade
She might not be a driver, but Leena Gade's role is so very critical that without her, one of the cars in Audi's Le Mans fleet certainly won't know what to do. Meet one of the most successful race engineers in the world, and she's of Indian origin too. That aside, it's really only her racing accomplishments that we are interested in. Gade grew up in the United Kingdom in the eighties. It was a time when it was hard not to be interested in Formula 1, what with Ayrton Senna really captivating the entire world, and Nigel Mansell holding the attention of Britishers. But there was also an interest in taking things apart and putting them back together that Gade had from a rather young age. She got herself a degree in aerospace engineering and then began applying to F1 teams, although all she managed to get for her pains were rejection letters. But she worked her way up through the various rungs of Formula racing, until eventually in 2007, Audi gave her a chance. Well, since then there's been no looking back for Gade. Her car won Le Mans in 2011 and followed it up with victory at the race in 2012 as well. In 2014, they managed to take their third 24 Hours of Le Mans win, along with claiming the title in the World Endurance Championship. One of the most accomplished and sought after race engineers in the world, is Gade. Hats off!
Monisha Kaltenborn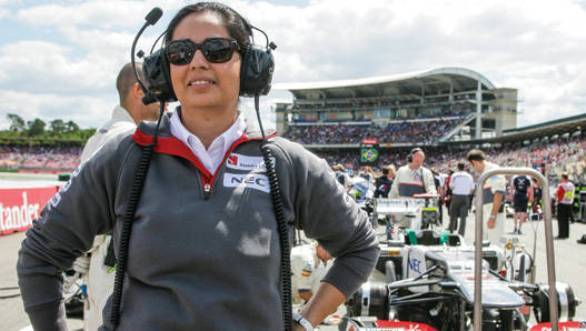 Easily one of the most significant women in the Formula 1 paddock, Monisha Kaltenborn also has an India connect. The Dehradun-born lawyer worked her way up the ranks at the Sauber F1 team since 2010, when she took over as the CEO of the Swiss-based F1 operation. And when founder and team principal of Sauber, Peter Sauber retired from his role as team principal, Monisha assumed the mantle. This, of course, makes her the first and only female team principal in Formula 1, which also means she is the one taking most major decisions for the team. Sauber hasn't had it easy, what with being one of the only true privateers in the F1 paddock. But with Kaltenborn at the helm, things seem likely to change for the good. Especially if testing ahead of the 2015 season is anything to go by.
Navaz Bhathena
Navaz Bhathena is very likely the quickest woman in all of India. Sure there might be women who have raced in the country in more recent times, but the truth is, Navaz is something special. And as one of her appearances in guest driver roles have proved of late, her years away from actively rallying and racing haven't made her any slower. Back when she'd just managed to get her driver's licence, Navaz's brother decided she simply must race. So she did, winning her first event too. When she made her rally debut at the MASA rally in 1987, despite several mishaps, she was awarded the rookie of the rally trophy. And in the years that followed, she gave the boys tough competition. In fact she was so good that she even got a sponsored rally drive in a Mitsubishi Starion in Europe. She might have hung up her rallying shoes some years ago. But there's no denying her speed and ability in a racecar and rally car alike.