Wishlist: Some top of the line motorcycle gear we want
Triumph Barbour Jacket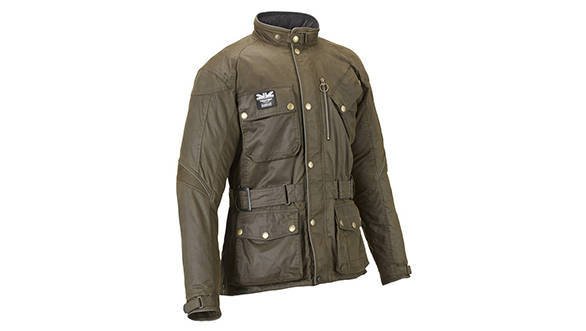 If it was good enough for Steve McQueen, you really can't argue about the quality of Barbour's jackets. They are the same lot who made the jacket that McQueen wore during the International Six Days Enduro back in the day. This jacket you see here is a modern interpretation of the same jacket by the same people. It features waxed cotton construction with reinforced high density polyester at impact zones with D3O armour. It is waterproof, windproof and breathable and even gets reflective piping to keep you safe at night. It also gets a map pocket at the back. If you want one, you can pick it up from the Triumph showrooms. We guarantee you that it is one of the coolest looking retro jackets around.
Price: Rs 32,000 (approx, UK)
Belstaff Brooklands Blouson
Belstaff is a brand that has over 100 years of motorcycling history backing it up that starts right at the inaugural Isle of Man TT in 1907. Over the years their motorcycle jackets have been used by some very famous names that include Che Guevara. The Brooklands Blouson is a waxed cotton jacket that comes from their collection of functional motorcycle wear. It has a bonded membrane and heat sealed seams for waterproofing and comes with a removable warm liner as well. Best part is that this jacket isn't all show – it gets removable armour at the shoulder and elbows with provision for an optional back protector as well. The price makes us want to cry, though.
Price: Rs 45,000 (approx, UK)
Roland Sands Clash
Yes, that's the same guy who made a flat tracker out of a Ducati Desmosedici. We would have hated him for it had the bike not been so awesome. Back to the point, RSD also makes some of the coolest retro styled riding gear on the planet. Everything from helmets to gloves to jackets, you will find here. The Clash is one of their rocker style jackets. It is straight out of the sixties and is made from hand-finished cowhide. It has an offset sipper with quilted shoulders for that signature rocker look. It's functional too and comes with a provision to insert armour at the elbows, shoulders and back.
Price: Rs 43,000 (approx, US)
Kushitani racing leathers
If you haven't heard of them, that's only because the name is whispered everywhere out of respect. Kushitani has to be the Holy Grail of motorcycle leathers. It is arguably the best leathers money can buy. Made from Kushitani's own Proto-Core leather manufactured from specially bred cows, the suit is one of the most comfortable one piece suits on the planet. Riders have been routinely said to call them pyjamas, because that's how comfortable they are. Proto-Core leather is said to be able to conform to your body shape with every use using your body heat. Everything from the leather to the stitching to the perforation is done by patented methods exclusive to the Japanese company. Even the armour is made from patented K-Foam+. As you can guess, they are super exclusive and only make a handful of suits every year. Naturally, you need to pay a very special price to have one. Time to sell the inheritance, then.
Price: Rs 1.12 lakh onwards (approx, US)
REV'IT GTX Dominator jacket, pants and gloves
Next year, we're planning a round the world motorcycle ride, so there will only be one issue of OVERDRIVE coming out. Not really. But if we were, this is the kit that we would want to do it in. The GTX Dominator series of kit is some of the best adventure touring kit that you can find. REV'IT has taken inputs from veterans of off-road and round the world rides and put all that know how into this. The kit is waterproof, snowproof, fireproof, bombproof and even dog bit proof. Not really, but you get what we're trying to say. It features Gore-Tex for waterproofing, SEEFLEX armour for protection and even comes neck brace ready. Just seeing it makes us want to hop on a R1200GS and ride off into the sunset.
Price: Rs 1.6 lakh (approx, US)
Rukka Armaxis jacket
This is a jacket that is made for the lunatic in you. Rukka gear has always been famous for being the most hardcore motorcycle gear out there. If you are the type of person who wants to ride a motorcycle to the South Pole, then Rukka is what you must be dressed in. The Armaxis is one of their more hardcore jackets. It has a Gore-Tex Pro 3-layer laminate with a three layer inner jacket and all the protection that you can possibly imagine. It is super waterproof and weatherproof. Just to give you an idea of how warm this jacket is, it weighs 3.6kg in one of the smaller sizes thanks to all the insulation and armour. So yes, South Pole? No problem.
Price: Rs 86,000 (approx, US)
KLIM Adventure Rally jacket
If you were out to buy Marc Coma a birthday present, this would be it. Klim claims this jacket "prepares you for anything Mother Nature can throw your way." They even say that it is the pinnacle of jackets. It features D3O protection at the shoulders, elbows and back. Besides being water and weather proof, the main feature that the Adventure Rally boasts of is that it is built around a lower and upper harness. This means that the jacket never really makes contact with your body, it only floats around above it. Forget Coma, if you wanted to go ride at the Dakar, then this just might be what you need.
Rs 99,000 (approx, US)
Dainese Air Frazer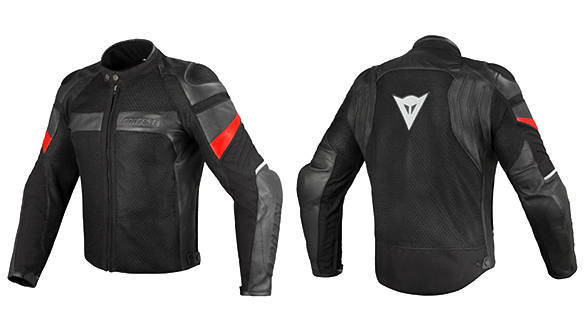 We love Dainese because that's what Rossi wears. We also like them because they make some of the best fitting kit that money can buy. And true to tradition, the Air Frazer is one the best warm weather gear that you can buy. It is a hybrid jacket, meaning it is constructed from leather and mesh. The leather is washable cowhide and the fabric bits are Cordura 750. It also gets EN certified impact protection at the elbows, shoulders and back. We like hybrid gear because it is an ideal compromise between warm weather comfort and impact protection. And when you add the style of Dainese into the mix, you have a winner.
Price: Rs 25,000 (approx, Europe)
Spidi Jeans Net jacket
If you want to add style to your functional riding gear, this is the jacket for you. The Jeans Net jacket looks just like a regular denim jacket, but features armour all over. It uses 13Oz denim fabric on the outside with EN certified protection on the shoulders and elbows with the option of adding a removable back protector if you want. It also comes with an optional thermal and waterproof liner. If you're heading out for a night of responsible partying on your motorcycle, look no further.
Price: Rs 18,500 (approx, US)
TCX X-Blend waterproof
Bert's had his eye on these boots for a while now. If you ask us, it would go really well with the Spidi Jeans Net jacket. The X-Blend is made of full grain leather that has been given a well worn look and features a reinforced heel and toe. It is also fully waterproof. It features TCX's Comfort Fit System which ensures that the boots fit over your feet like a second layer of skin. Shumi already uses a pair of TCX boots and so does Rishaad, Both of them swear by their boots, so there has to be something to them.
Price: Rs 16,000 (approx, US)
Related Stories