Why are riding schools and track days important
The thing that distinguishes motorcycle riders from car drivers tends to be how involved motorcyclists are with riding, their motorcycles and usually, how to ride the motorcycle better. This last bit we try to accomplish by talking to our friends who ride faster than us. Many of us also take to reading articles in books and on the Internet. However, as we have learnt over time, the value of actual time spent practising skills and technique has no substitute. And if you can replace your friend's help with the seasoned eyes and brain of an experienced motorcycle instructor, it changes everything.
Just a few years ago, that last bit was next to impossible to find in India and very expensive if you were hardcore enough to travel to a school abroad. But now, Yamaha for example, runs one of a few motorcycle riding schools in India.
Classroom session with Yoshiaki Kato ex-WGP rider
The advantage of going to school is that you get someone who knows what they are doing to watch your riding and give you specific input to lift your riding skills. This is based on a learning plan designed to achieve that specific result. Yamaha hosts their school every year at the Chennai racetrack – watch out for an announcement soon.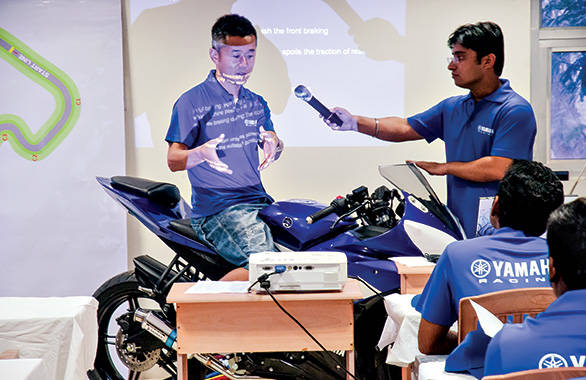 Ex-WGP rider Yoshiaki Kato demostrates riding techniques
If school is too expensive or inconvenient, the next best thing to do is to go to a track day. Again, these were few and far between just a few years ago, but now there is usually a track day you can go to and join nearly every weekend at at least one of India's three racetracks. Track days range from inexpensive to eye-watering but in all cases, they give you the opportunity to ride in a traffic-free environment with the backup of an ambulance, just in case.
The trick is to not to go fast at a trackday but to practice the skills required to go fast and let the speed come to you as a result of getting the skill right. What skills? You'll either need a school, or take those books along. Pit lane between sessions is actually a great place to read!