Where are all the motor shows going?
On the face of it, the last minute cancellation of the 2020 Geneva Motor Show might have looked like a righteous respone to the threat of the Covid-19 pandemic that is sweeping through the world now. But look further, and one realizes that this incident might have been the latest in a trend that is starting to put a big question mark on what motor shows do for the automotive world in the present.
With the actual show cancelled, carmakers just decided to move all of their big-ticket launches and reveals online, and present these in a less hurried pace. This also allowed them to curate these events in a manner closer to their brand identity, take FCA's reveal of the new Fiat 500 as an example. With these events spread out over the course of a few days, manufacturers were also assured of more focused coverage of their products from the global press.
TOKYO, JAPAN - OCTOBER 28: The exterior view at the Tokyo Motor Show 2015 at Tokyo Big Sight on October 28, 2015 in Tokyo, Japan. (Photo by Ken Ishii/Getty Images for Yamaha Motor Co., LTD)
This is in stark contrast to what happens during a traditional motor show, where each exhibitor has a limited time slot to make an impact and try to gain coverage. There's little scope to allow for a immersive experience to go with all the hue and cry. Another disadvantage here is that motor show space is very expensive, and if you don't have a large, well-placed exhibition, chances are that visitors might lose you in the crowd. Moving online, aside from reducing costs diminishes that risk to an extent.
We don't know how much these factors would have been at play if the Geneva Motor Show had actually taken place, but we do know that footfall and participation in the two motor shows before that had dropped. The 2020 Frankfurt show held in September 2019 saw around 5.5 lakh visitors, dropping from 8.1 lakh in 2017 and 9.3 lakh in 2015. Even the Auto Expo 2020 back home saw muted participation, with many big-ticket car-makers and most two-wheeler manufacturers staying way. Even the one present chose to hold on to their important reveals for later.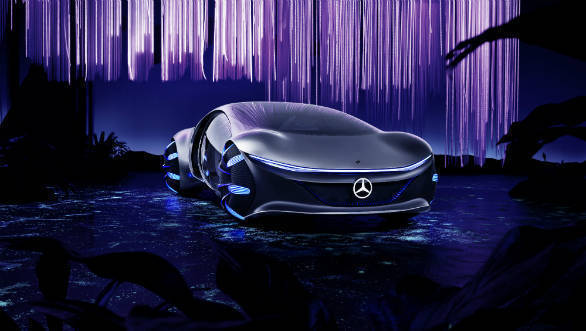 Mercedes chose CES 2020 to showcase its Vision AVTR concept
This is in contrast to events like CES, where automotive presence seems to be growing with each passing iteration. Last year saw big reveals from Mercedes-Benz, Bosch, Hyundai and Fisker. This is a direct result of how the line between cars and gadgets seems to be blurring very quickly. The EV revolution is well on its way and the next cars will make an impact depending on how much tech and  connectivity they can pack into themselves. The last Tokyo Show was a success because of this,  the 2019 edition saw over 13 lakh visitors against 2018's 7.7 lakh. The event focused not just on cars but also on the future of mobility as a whole, with numerous mobility and personal connectivity concepts being shown.
The coronavirus pandemic hasn't done this trend any good, with the Detroit Motor Show having just been called off. Going forward, having lakhs of people in a confined space will pose even more challenges to both visitors and organisers. As motor shows start to lose out, the spectacle that they came with is what will be missed most. The ability of fans and buyers to closely interact with their cars is what made them such great aspirations to being with, and that's at risk too. I'm sure we'll figure out a new way to do this, but for now, things seem to be well and truly changing.