What should your motorcycle pants be made of?
Welcome to OVERDRIVE's no stone left unturned guide to motorcycle pants. This is one of the sections of the comprehensive guide - you will find links to the other sections, as they come online, at the bottom of this page. And now let's get on with the guide. This time we're discussing the materials used to make motorcycle pants from.
What happens in a crash in terms of which parts of your body touch the ground are hard to predict though statistics will show that the extremities are more likely to make contact with the ground than any other part. The unpredictability means that all parts of the gear - in this case the pant, must be able to resist abrasion. The shell of the pant is usually made from three materials, just like motorcycle jackets are -  leather, textile and mesh.  So how do you pick between them?
Leather
Leather is actually a great material. It is harder to live with and more expensive to acquire but it can work wonderfully well even in our weather. Leather motorcycle pants come in sport, touring and cruiser styles. The sport is the tightest in fit and will usually add either a velcro loop patch for kneesliders or include the patch with kneesliders. You want some form of hip armour to be there, you want at least one reasonably sized pocket, stretch materials and expansion patches (accordion-style stitching so the leather can stretch when you bend your legs). One quirk, look at where the zipper that closes the leather pants around your ankles is situated. Some pants will put it over your Achilles tendon and that's a major irritant.
This is a Joe Rocket Alter Ego Pant - Shumi uses the next generation of this particular design as one of his daily riding equipment. The pant is constructed from abrasion resistant material and has knee armour but notice the panel on the left leg. Two zips allow you to take the whole panel off and create a large mesh vent. Zip that panel closed and add the included waterproof liner and this pant will also work in near-freezing temperatures. Image courtesy: Joe Rocket
Touring pants are roughly similar but may not have knee sliders or as much stretchy materials or indeed, that snug a fit. While sports pants, almost without exception, are designed to go into the top of the motorcycle boot, check touring pants - they can go over or inside depending on design. Finally, cruiser styles fit like regular jeans and are made of leather and when they're entirely missing the crotch, they're called chaps. Check for armour (or at least pockets for it). For good protection look for a line that says something like 1.1-2mm thick premium grade leather.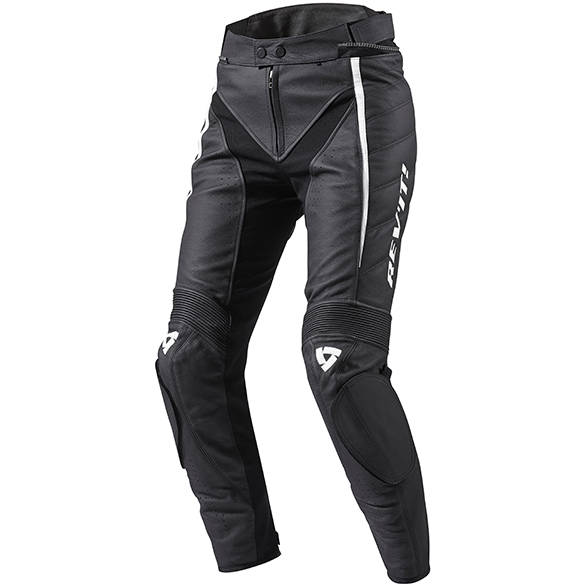 This is a pair of leather sport pants. Note the tight fitting cut and the leather panels that cover velcro loop for knee sliders. The darker black material around the crotch area is stretch to allow easy leg movement despite the thickness of the leather. Image courtesy: Rev'It
For India, avoid non-perforated leather gear even if it is vented - just too hot to wear. Perforated leather though, especially as pants,  is surprisingly useable even in hot weather.
Leather does come with issues. It's heavy, takes up space in the cupboard, will mildew in the wet season and leak dye when wet at least the first few times. Now and then, you'll also have to sit with leather polish and nourisher and rub the good stuff back into your leathers for longevity and to protect it from moisture. Personally, I love leather motorcycle pants - watch out for the next section of this guide for what we use - but leather, mind you, isn't my primary daily use solution.
Textile and mesh
This is a pair of Rev'it Airwave pants. The darker grey panels are all mesh - think of it as a really strong, nearly opaque net. On the knees is a heavy duty material as is the whole material that surrounds the mesh. There is armour in the knees and though not visible, two large retroreflective strips next to the knees. If you look carefully, the inside of the leg has a zipper that runs neatly to the crotch to allow you to wear this garment - which is an overpant by design, over your street clothes quickly. In India, we use this pair (in black) as a riding pant without street clothes - our temperatures are too hot to handle two layers even if the outer one is mesh
Textile is a much better material for our conditions. It's hard wearing, light, you can wash it in the machine, there's a bewildering array of colour, materials and styles to choose from. Just remember that in every case, the more seams you see, the more places the gear can fail at. That's why patchwork leather and colourful pants where each colour is a stitched on patch is usually not a good idea. With textile pants watch for the fit especially around the armour - it shouldn't move about too much but the gear shouldn't be restrictive to your movements either. Second, watch for the temperature range. Closed off or waterproof motorcycle pants can be unbearably hot in our weather. Look for styles with vents or mesh patches. In a hot-humid place like Mumbai, I use all-mesh construction almost exclusively.
You also get excellent convertible styles now. I am now on my second pair of Joe Rocket Alter Ego pants that have a solid exterior with a larger zip-off panel that exposes a mesh zone underneath it. It comes with a removable waterproof liner as well. And I've been able to successfully use these in everything from about 45 degrees to just below zero in the rain without needing any additional layering or help. In price terms, mesh is usually the cheapest and leather the most expensive. For those who like to live further on the edge - learn how much leaner your chances of surviving a crash can be when you wear denims on a bike.
Also, look out for our comprehensive guide on motorcycle overpants (and underpants).
More from OVERDRIVE on motorcycling gear: -
Cheapest motorcycle boots in India
Top five cheapest motorcycle jackets in India
Top four cheapest motorcycle gloves in India
Buying guides: -
The motorcycle boot buying guide
Motorcycle jacket buying guide